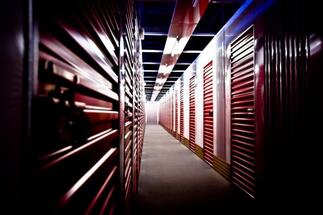 100 years ago in Schönow street worked rapidly developing industrial plants known all over Europe. Currently, part of the building was demolished, part declined. A chance for a new life to this place is new investment. One of the buildings, which is part of the complex once belonging to the family Schoenów, just passed a complete renovation. Inside it on the area of more than 1.2 thousand square meters there are modern furnished warehouses type of self-storage. This is one of the largest investment of its kind in the region and the first in Zagłębie.
- The building gained a new elevation, as well as the interior. Now, after renovation it will fulfill new, useful function. Its divided into 120 storage rooms, where you will be able to store your belongings, among others, residents of Sosnowiec and the surrounding towns, local entrepreneurs, athletes or hobbyists. The idea for this type of investment is imported from the United States, where self-storage are extremely popular for years - says Alexander Suwała, representative Sejfboks in Sosnowiec.
Overseas warehouses self-service are in common use for more than 70 years. It is working there over 50 thousand. such places. Also in Europe there are more than 7 million square meters. warehouses of this type. Their customers keep them literally everything from motorcycles, bicycles, skis, unnecessary furniture, books and clothing, and finishing on vinyl collectors and model railroads worth thousands of dollars. In Poland this is relatively new trend.
-This concept has just adopted on the Vistula River. Therefore Sosnowiec warehouses are one of the pioneers in the region. Local demand is huge. The self-storage today is using mainly by people who have a lot of things in the apartment or house, while not having a garage, attic or basement. The local trading companies or auction sites use Sejfboxes as well. Many people store there things related to their hobby - says Alexander Suwała.
Sejfboks representatives assure that their investment has a chance to attract Sosnowiec entrepreneurs and individuals from all over the region. Currently, the most popular are the rooms of 10 square meters and small - having only 1 square meter boxes. - The first tenants store in warehouses both large items, as well as small things. We have, among others, sports equipment, which did not fit in the garage, easel, summer garden, and photography equipment. One of the landlords include DJ, who left with us their decks - adds a representative of Sejfboksów.
Sosnowiec Sejfboksy give several storage options. In total, the warehouse is up to 10 types of boxes, ranging from rooms with 1 sqm. by 3, 4, 5 meter, and leaping out of 10 sqm. Sejfboksy also have small boxes having 1 cubic m. Most are those with 3 sqm., up to 41 - each box is a different need. Your store will find both someone wanting to keep a trifle, as well as people who have the need to store the motorcycle, the set of skis or a catering equipment. Warehouses are heated and guards to protect them - adds Suwała.
120 room magazines are already the second self-storage on Schoenów Street. The first one, on a smaller scale, was established in 2010 and counts 25 boxes.
source:http://www.propertynews.pl/magazyny/magazyny-inaczej-nietypowa-inwestycja-w-sosnowcu,50858_1.html