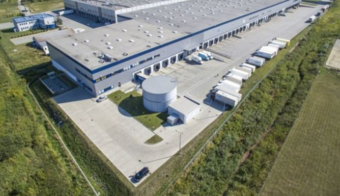 Spedimex's lease for 3,588 m2, follows another contract they signed with Tristar in Poznań recently. In November 2020, the company decided to renew their lease of over 9,500 m2 of warehouse and office space, across two logistics centers owned by Tristar - in Gdańsk and Poznań.
"Developing long-term relationships with our clients is of great importance to us. In fact, this lease is a direct result of building such relationships, based on trust and geared toward the needs of our tenants. Spedimex is developing very dynamically and in the future will likely expand into new warehouse spaces. Knowing this, we aim to be our partners' first choice" – says Urszula Rasmussen, Head of Industrial Leasing, White Star Real Estate.
Tristar Poznań is located just 11 km from the city center. The industrial and logistics park is in close proximity to Poznań-Ławica, one of Poland's oldest airports, to which it is connected by a 5-kilometer route via Bukowska street. The Western Poznań Bypass, which leads to the A2 motorway, is also nearby. Within Tristar Poznań, there are two modern class A warehouse buildings, offering a total of approximately 35,500 m2 of space.
"Logistics services are currently exhibiting dynamic growth, and in order to adapt to market needs, warehouses need to be well-located. Luckily, Tristar Poznań offers just that. Thanks to our earlier cooperation, Tristar knows our needs, and our relationship made it possible to close the contract quickly and efficiently, as well as to develop optimal terms for both parties, " says Michał Wochna, Operations Director of Spedimex.
The contract with Spedimex is yet another transaction concluded between Tristar and existing tenants. Just in the past 18 months, Tristar renewed a number of leases which total 94,000 m2 of warehouse space. In May this year, No Limit extended their lease with Tristar Grodzisk. Another company, Inter Cars, extended their lease with Tristar in Gdańsk in November of last year. Similar decisions were made by others – including but not limited to: LPP in Gdańsk, as well as Sigolables, Nagel Polska, and Ruch in Wrocław.
Tristar is a joint venture between EPISO 4 and White Star Real Estate established in 2018 and focused on investing in and running class A industrial and logistics properties. The portfolio currently comprises 5 locations across Poland, including industrial and logistics parks near Poznań, Wrocław, Katowice, Gdańsk and in Grodzisk Mazowiecki, with their total area amounting to nearly 162 000 sqm. All the properties in the portfolio are managed by White Star Real Estate.