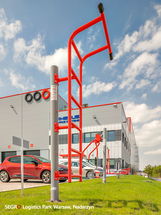 "The new building for Rhenus Office Systems was built with the use of Building Intelligence Modeling, which allowed to maximize its ergonomics and to plan solutions already at the design stage that will allow e.g. obtain BREEAM certification at the Excellent level. We adapted the facility to the specifics of the client's business, which deals with processes related to document storage and data processing. In order to ensure the special security of paper documents stored in it, the building has higher fire resistance. In addition, for the client's needs, the project has a non-standard net height of 12 meters," says Bartosz Michalski, Development Director, SEGRO.
"The lease of a new warehouse facility in Nadarzyn near Warsaw is another milestone in the development of our business in Poland. The continuation of cooperation with SEGRO was decided, among others, by the optimal location of the park, the high quality of service for the existing investment, and the advanced design of a new, ecological warehouse that met our expectations. What's more, the accelerated deadline for commissioning the space allowed us to start operations earlier than we expected," says Krzysztof Choma
Member of the Management Board of Rhenus Office Systems.
"Our building perfectly meets all the requirements related to running a modern digital and traditional archive. It also meets the most stringent standards, thanks to which the processes of processing, storing documents and information can be carried out in a safe and sustainable manner. We congratulate Rhenus Data Office Polska on its dynamic development and we look forward to further, fruitful cooperation at SEGRO Logistics Park Warsaw, Nadarzyn," adds Waldemar Witczak, SEGRO Regional Director.
SEGRO Logistics Park Warsaw, Nadarzyn is a modern logistics center located in Nadarzyn, 15 kilometers from Warsaw.
source:europaproperty.com