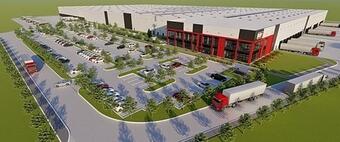 The building is planned with over 5 000 sqm earmarked for office space. The site is provisioned for an additional 30 000 sqm if Weber's growth exceeds expectations.
The project will be Weber's first manufacturing facility in Europe and when complete will employ approximately 450 people. The construction will begin in August 2020 and will be ready for occupation during the second half of 2021. The BTS facility will serve as Weber's primary distribution operation for Europe, Asia and Africa.
Zabrze's proximity to three international airports (Katowice, Krakow, Ostrava) and easy access to the A1 motorway (Gdańsk - Łódź - Czechia - Austria), and the intersection of the A1 and A4 (Germany - Wrocław - Krakow) serve Weber's interests well.
The logistics real estate sector is proving to be more resilient than other real estate classes during Covid-19. According to Savills, the pandemic has had no significant impact on occupier demand in Poland in the first quarter of the year. The leasing volumes during Q1 2020 have been on a par with the same period last year (1.1 million sqm) with a notable increase in demand for temporary space.
Poland's total warehouse and the industrial stock reached 19.0 million sqm at the end of March 2020, with the largest markets being Warsaw (4.4 million sqm), Upper Silesia (3.2 million sqm) and Central Poland (3.1 million sqm).
According to Andrew Konig, CEO, Redefine Properties, the coronavirus pandemic is expected to intensify the demand for warehousing as supply chains are restructured and to meet the growth in online spending. The growth in e-commerce is benefitting logistics especially the development of "last mile" delivery facilities.
"Our strategy in Poland is centred around creating a leading logistics platform and Zabrze located in Upper Silesia, one of the most attractive logistics locations in the country was a natural choice for Weber", says Pieter Prinsloo, CEO of Redefine Europe.
The sustained investments in improving road infrastructure has enabled easy access to other parts of the country, as well as to the rest of Europe making Upper Silesia a popular region among international companies looking for high-quality warehouses in good locations. The facility to be developed in Zabrze is our next investment in the region, following the development of the warehouses and logistic parks located in Ruda Śląska, Sosnowiec and Bielsko-Biała.
ELI's portfolio includes 16 assets with a total gross lettable area of circa 480 000 sqm and approximately 120 000 sqm under construction. In the next three to four years, ELI plans to expand by about 2 million sqm through development activity.
Source: sareit.association