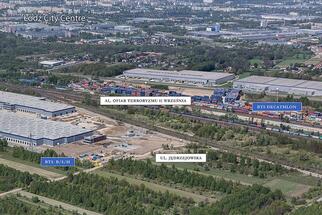 Warehousing goes urban. Panattoni Europe's most recent project, City Logistics Łódź II, will offer 38,000 sqm of space suitable for cross-docking, warehousing and light manufacturing, as well as comfortable office space. The minimum unit will be 1,800 sqm, and the modern class A warehouse space will be BREEAM certified. The construction works will be commencing this quarter, and the first tenants will be able to move in as soon as February 2020.
The excellent location within city limits is the primary advantage of City Logistics Łodź II. The park will be built at ul. Olechowska in the eastern part of Łódź, just 5 km? from its centre. As a result, the future employees of the park will be able to use public transport facilities (tram, buses), and tenants will be guaranteed easy access to a qualified labour pool. At the same time, the facility will be 4 km from the Łódź Wschód junction on the A1 motorway, and approx. 30 km from the Łódź Północ junction, where the A1 (connecting the north of Poland with the south) intersects with the A2 (running east-west).
The attractive location of city logistics parks, with convenient connections to both the city centre and exit routes, coupled with the minimum units on offer appeal particularly to smaller tenants. These facilities, because of the office component and lease rates that are lower than those in the urban centre, are also becoming increasingly popular as a location for business headquarters.
Consumers within easy reach. The concept embodied by Panattoni City Logistics Parks has come about in response to the needs of last-mile logistics and inner-city logistics. "The growing interest in this type of space is stimulated by the dynamic growth in e-commerce. The volumes of online sales are going up and up fast, and with them the demand for logistics operators, reloading platforms and points of sale close to the customers. The latter make it easier not only to deliver goods faster and easier, but also to manage returns more efficiently. Hence, owning or leasing a warehouse within city limits by e-commerce businesses is gradually becoming a necessity" – explains Marek Dobrzycki, Managing Director Panattoni Europe.
Panattoni Europe consistently develops its portfolio of City Logistics Park projects. The latest development will be the second urban logistics park in Łódź and the sixth in Poland. Apart from Łódź, the developer has delivered three such complexes in Warsaw and one in Wrocław – close to 120,000 sqm in total. In addition, last August the cornerstone was laid under another investment dedicated to city and SBU logistics, this time in Berlin. The EUR 25 million project in the Spandau area of Berlin will comprise three buildings totalling 15,000 sqm divided into small units.
Source: Panattoni