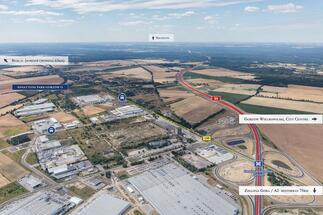 The company has already delivered in the province Lubuskie, about 400 thousand. sq m industrial space. It has realized its own parks here - in Zielona Góra and Gorzów. Among the projects carried out in this voivodeship, there are also large-scale facilities made to measure - including BTS Świebodzin occupying 200,000 sq m. sq m, which was the largest industrial facility built in 2021 in Poland.
The new investment, Panattoni Park Gorzów II, will be built less than an hour from the border with Germany.
The Lubuskie region is one of the biggest beneficiaries of the rapid development of the industrial space market in Poland. It allows you to serve customers from Germany and the rest of the continent, becoming a hub for international activities. The potential is confirmed by the numbers - the demand at the level of 400 thousand. sq m in 2021, comparable to Kujawy and the Tri-City - two rapidly developing regions - only lower than the so-called Big Five - emphasizes Dorota Jagodzińska-Sasson, managing director, Panattoni.
The new Panattoni complex will be adapted to both warehousing, logistics and e-commerce processes. It will be possible to adapt buildings to the requirements of individual production. The investment will be certified under the BREEAM method at the Excellent level and will be the first Panattoni own park in the region with such a high ecological standard.