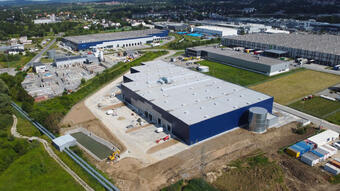 Technoform has 45 factories and sales offices across Europe, the US and the Asia Pacific region. The next stage in its development is the relocation of one of its production plants to a modern factory developed in Skawina as part of Panattoni Panattoni Park Kraków West III, within just 20 km of the region's administrative capital. "Technoform is a major player that has been building up its position on the market over many years. When a company like this decides to grow larger in the region, it is proof of the huge potential of Kraków and its surroundings and these include Skawina itself, which is becoming a hub of industrial activity largely through the activities of powerful international companies. Małopolska has shown itself to be a great place to locate manufacturing plants, which in the age of the re-industrialisation of Europe is becoming a major boon", says Marek Dobrzycki, the Managing Director at Panattoni.
The tenant is to use the new factory to produce insulation components for double-glazed windows as well as to store its completed products. The project will serve both the home market as well as numerous other European countries. The location will aid the centre's international operations, being near the DK44, a section of which forms the Skawina bypass, as well as near the A4 motorway, which has also proven of additional benefit in the efficient relocation from the former factory. From Panattoni Park Kraków West III, the Slovakian border can be reached in around 80 minutes while the border with the Czech Republic is just under two hours away. The A2 motorway is just ten minutes from the site and provides easy access to the German border in the southwest and the Ukrainian border in the southeast.
The park was developed to Panattoni's high standards and is to undergo BREEAM environmental certification for a rating of Excellent. The developer has installed dusk detectors for the outdoor lighting and an intelligent energy management system. Furthermore, the tenant will make use of the whiteware installations and water-saving sanitary fittings. Additionally, Panattoni has provided cycling facilities while also ensuring that trees and shrubs have been planted on the site of the factory as well as a flower meadow to add to the biodiversity of the local ecosystem.
An €8 million loan was issued for the development in Skawina by Credit Agricole. "Małopolska has a population of around 3.4 million people and is the second most densely populated region in Poland. This increases the interest of businesses and industry and makes them want to locate their new projects here. It also means record low vacancy rates on a country-wide basis. This is also extremely important to the financial institutions that – on seeing such huge development potential in the region – issue loans for developments in Kraków and its surroundings", comments Karina Trojańska, the Chief Financing & Operating Officer at Panattoni.
source:property-forum.wu