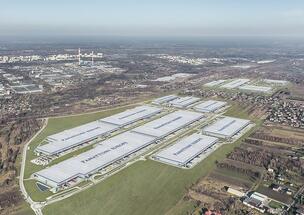 Panattoni Europe continues to develop and inspire. Announced in 2018, the largest logistics complex in Europe – Central European Logistics Hub – nears the halfway mark. Out of the planned 600,000 sqm, the developer has already completed 250,000 sqm and a further 160,000 sqm are under way. The companies which have already decided to take a chance on Panattoni Europe and the Hub for their growth include: BSH Sprzęt Gospodarstwa Domowego, for which the developer has built a logistics centre (79,000 sqm) with its own railway siding and is currently building a dishwasher factory (58,500 sqm) – the company's largest production plant; Media Expert with a distribution centre (73,400 sqm) dedicated to multiple sales channels, and SMYK with a 70,000-square-metre distribution and online store service centre.
Central European Logistics Hub has a perfect location in Central Poland with access to the intersection of the European east-west and north-south routes, and at the same time within administrative city limits, which will facilitate the tenants' manufacturing and warehousing operations and make it fast and easy for employees to get to work. The advantages of the Central European Logistics Hub were quick to inspire the emergence of the New Industrial District of Łódź, with potential for 7,000 jobs. Marek Dobrzycki, Managing Director, Panattoni Europecomments: "As a result, Łódź returns to its industrial roots, with a network of innovative manufacturing and warehousing facilities, as evidenced by our projects", adding: "Łódź is a multi-cultural melting pot with a glorious industrial history. The city lies in the centre of Poland and Europe, and is experiencing dynamic infrastructural development – being situated, as it is, at the intersection of motorways extending beyond Europe. Łódź is also a strong academic centre, and now, thanks in part to Panattoni Europe, is regaining its former splendour."
Panattoni Central European Logistics Hub is Europe's largest logistics complex to be delivered by the developer at ul. Jędrzejowska, right next to the A1 – the only Polish motorway running north-south. The hub is just 30 km away from the Łódź Północ junction, where the A1 and A2 motorways cross. An excellent location in Central Poland with access to the intersection of pan-European routes.
Source: Panattoni