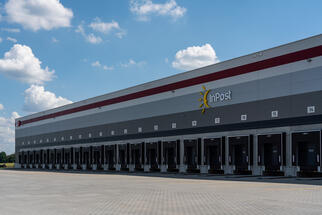 It is another joint project of P3 and InPost within the recent months. The end of the last year saw completion of the expansion of the operator's main sorting facility on the premises of the P3 Piotrków park. On the same site, the company leases also more than 17,000 sqm for the purpose of the InPost Fulfillment service. Bartłomiej Hofman, the Managing Director at P3 Logistic Parks in Poland, says: "I'm happy that InPost, our long-term partner, keeps returning to us with their new projects. When companies want us to accompany them in their growth and ask us to handle their key developments, it is the best way they can confirm that what we do is right. I do believe that we will have the chance to manage more interesting projects together with InPost."
The InPost warehouse in Mszczonów has been designed and developed in line with the "very good" BREEAM standard. The facility is equipped with PIR core panels (more effectively isolating the building from adverse weather), LED lighting and solar panels for heating domestic water over the office and amenity part. The space covering 17,300 sqm includes as many as 79 docks, one "0" level gate and three additional gates for courier delivery cars. The sorting facility will be able to deliver even several hundred thousand consignments a day, sorted by approx. 300 people.
Rafał Brzoska, the CEO of InPost, says: "We have been cooperating with P3 Logistic Parks for more than 10 years now. During that time, we have always been able to rely on the company's support and flexible approach to our needs. Last year's considerable expansion of our main sorting facility in the P3 Piotrków and the development of a new sorting facility in Mszczonów are our answer to rapidly growing volumes of consignments and a part of our logistic network's growth strategy. Due to our modern logistic facilities, we are among few operators in the country with the ability of stable D+1 delivery of consignments."
The P3 Mszczonów park is located merely 50 km south-west from Warsaw, along the S8 express road from the capital city to the southern part of Poland, and also near the A2 motorway joining the western and eastern part of the country, as well as the A1 motorway running from the south to the north. The developer owns land for development of additional lease space of more than 100,000 sqm in the park.
Source : BOIG Marketing