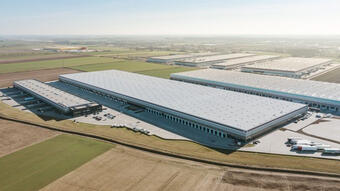 Bartłomiej Hofman, Managing Director, P3 Poland, said: "The expansion of P3 Poznań is one element of our company's development strategy for the Polish market. Offering cutting-edge standards and an excellent location with quick access to key markets in Europe, this park has earned strong recognition among tenants and is currently almost entirely leased out. The extension of P3 Poznań is our response to demand for modern warehouse space, which is constantly growing in this region".
The new warehouse at P3 Poznań will be outfitted with cutting-edge technological solutions in order to manage logistics processes effectively. Warehouse items up to 11.5 m tall can be stored without incident because the warehouse is 12 m high to the base of the roof structure.
The warehouse must also fulfill all BREEAM certification requirements in order to receive an "Excellent" sustainability rating. Superior thermal insulation is provided by PIR core panels, and the roof has a reinforced structure that will allow the installation of energy-saving solar panels in the future. A DALI automatic control system with an energy-efficient LED lighting system will also be present in the new warehouse.
Bremer is the facility's main contractor.
P3 Poznań is situated in Robakowo, a suburb of Poznań, close to the S11 and A2 highways, giving it easy access to the German city of Berlin and the eastern Polish city of Warsaw. Westwing, PF Logo Express, Zaparoh, CEVA Logistics, British American Tobacco, GXO, and Colian Logistic are just a few of the companies that currently rent space from P3 Poznań.