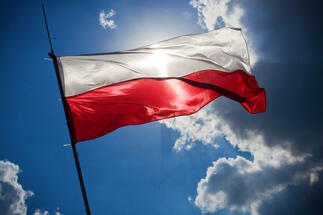 Agata Holak, Senior Consultant, Research, Knight Frank, commented: "In 2017, the total volume of modern office stock in six major regional markets (Cracow, Wroclaw, Tricity, Katowice, Poznan, Lodz) grew by almost 428,000 sqm handed over for use in 53 projects, thanks to which the total stock in these cities surpassed 4 million sqm. Last year's new supply was 10 percent lower than in the record-breaking 2016. The largest completed property was the 3rd phase of the Alchemia - Argon complex (Torus; 36,000 sqm) in Gdansk. However, it was not Tricity that became the leader of new supply. Most spaces were delivered to the market in Cracow (190,000 sqm), including buildings E and F of Enterprise Park (Tristan Capital Partners, Avestus Real Estate; 26,400 sqm) and the 3rd stage of the O3 Business Campus (Echo Polska Properties; 19,200 sqm). Lodz was second with new supply amounting to 74,000 sqm and the completion of two office projects located in the New Centre of Lodz: Przystanek mBank (constructed by Ghelamco and acquired by LCN Capital Partners; 24,700 sqm) and Nowa Fabryczna (Skanska Property Poland; 19,400 sqm).
The investment boom showed no signs of stopping. By the end of 2017, over 1 million sqm remained under construction on regional markets, with the majority in Cracow (301,000 sqm) and Wroclaw (291,000 sqm). According to developer timelines, over 630,000 sqm of office space is to be delivered to the market in 2018. Never before have we seen such great investor activity in the office sector.
However, regional markets have not seen a rise in the total volume of available space which constituted ca. 9.4 percent of the total stock. By the end of Q4 2017, vacancy dropped in comparison to the same period last year in Wroclaw, Tricity, Katowice and Poznan. Lodz and Cracow, on the contrary, saw only moderate increases due to high levels of new supply. Nevertheless, the current level of vacancy on all markets is still very comparable, ranging from 8.2 percent in Tricity to 11.3 percent in Katowice.
Asking rents in all analyzed cities remain stable, but the rise in leasing competition results in growing pressure to lower effective charges by 15-20 percent in relation to asking rents.
2017 also ended with the highest demand volume in history. Lease agreements for a total of 651,000 sqm were singed, the majority in Cracow (slightly above 200,000 sqm) and Wroclaw (ca. 170,000 sqm). With 113,000 sqm leased, Tricity joined the markets with an annual demand surpassing 100,000 sqm. New lease agreements and pre-let agreements constituted more than half of the demand structure, while renegotiations made up 27 percent of the signed agreements. High market absorption was confirmed by the record net absorption of 430,000 sqm in 2017.
In consequence, regional cities keep attracting more and more institutional investors, while class-A office properties in regional cities are considered very attractive assets on the investment market. The total investment transaction volume completed in the office sector in Poland in 2017 amounted to €1.6 billion, 70 percent of which was constituted by regional market acquisitions. The most spectacular office deals in 2017 outside of Warsaw included the acquisition of the Maraton office complex in Poznan by Union Investment, the acquisition of Przystanek mBank in Lodz by LCN Capital, the acquisition of Wratislavia Center in Wroclaw by the Austrian fund FLE GmbH, the acquisition of the A4 Business Park III in Katowice by Echo Polska Properties or the acquisition of Pilot Tower in Cracow by First Property Group
Source: Europa Property