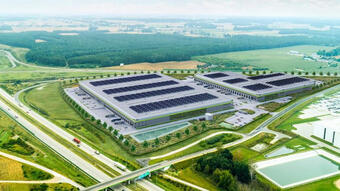 MDC2 Park Łódź South consists of two distribution and logistics buildings with a planned total GLA of over 80,000 sqm. The project is located in Głuchów – 19 km south of the Łódź with direct access to the Tuszyn junction on the A1 motorway. The A1 motorway is the main communication route running from north to south in Poland. There A2 motorway and S8 expressway are in close vicinity as well. Furthermore, the expansion of the S14 will also connect with the A2 motorway and the S8 expressway, enabling country-wide distribution.
MDC2 is the developer of the project. The investment is being developed in cooperation with Fortress Real Estate Investments Limited (Fortress), a Johannesburg Stock Exchange (JSE) that owns, manages, and develops commercial real estate. The fortress is the owner and financing partner of the investment.
Notino is the largest perfume and cosmetics online store in Europe. It offers a selection of 100,000 products from 2,500 global and local brands. Last year alone, the company sold 100 million products. Notino plans to distribute cosmetics, perfumes, and over-the-counter drugs from this location.
"We are accelerating our European expansion by choosing one of the best logistics locations in Poland. Efficient distribution and being closer to our customers are our priorities. We ship tens of thousands of orders every day. Thanks to partnering with MDC2 Park Łódź South, we will be sure of smooth deliveries to our customers. As delivery speed is key for us, we are pleased to be able to shorten the delivery time even more for our Polish customers. We chose MDC2 Park Łódź South not only because of the excellent central location but also because of the developer's outstanding approach to ESG and individual approach to business partners", explains Logistic Director Tomáš Hofer, Notino.
"We are pleased Notino, which is very popular among Poles, has chosen our facility in Głuchów. The building is a facility whose location and technical parameters will be tailored to the tenant's requirements. Our goal is to support Notino's business. Both the location and the efficiency of the space give our client a guarantee of streamlined business development", says Adrian Winiarek, Development Director at MDC2.
Cushman & Wakefield represented the tenant in the transaction. Legal Hub Wojnarowska Ścigała Irlik was a legal advisor.
source:property-forum.eu