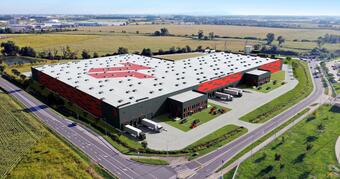 7R City Flex Wroclaw is the next facility of the 7R City Flex Last Mile Logistics line. With its location within the administrative boundaries of the city of Wroclaw, the 25 000 sq. m investment – comprising of two buildings with the floor surface of about 12 000 sq. m each – is addressed to tenants whose priority is proximity of the city centre.
,,At the spring time, when we delivered our first investment in Wroclaw - 7R Park Wroclaw, we already knew that this is the agglomeration with high growth potential. Now we are coming back to the city with 7R City Flex Last Mile Logistics concept. I have no doubts about the fact that our latest project with its perfect location in Wroclaw, just a stone's throw away from the airport, will be as successful as other existing warehouses of the 7R City Flex concept", says Bartłomiej Krawiecki, Member of the Board, 7R Head of Development.
The facility will be located at ul. Awicenny, next to Wroclaw Strachowice airport. Its location in close proximity to Wroclaw's ring road – near Wroclaw Zachod and Wroclaw Poludnie junctions which connect A4 and A8 expressways – will guarantee convenient access and fast product distribution.
The location is also attractive having regard to great access to labour market. The efficient transportation from the facility to the city centre will be ensured by Wroclaw Zachodni railway station located nearby and public transport stops situated right next to the park.
,,The site where 7R City Flex Wroclaw is being constructed is perfect for this type of investment. The airport, the city ring road, the railway station and well-developed public transport network make this place attractive to workers and they guarantee highly efficient product distribution to the future tenants", adds Maciej Krawiecki, 7R Head of Leasing Department.
The commissioning is planned for the 3rd quarter 2020.
Source: 7R Logistics