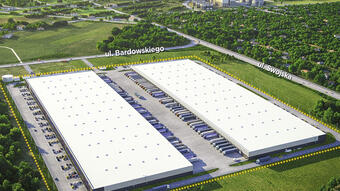 The Museum of Modern Art in Warsaw, which displays 20th-century and contemporary art, was launched in 2005 by the Ministry of Culture and has been co-managed with the City of Warsaw since 2006. In 2017, the MSN opened the Museum on the Vistula, an exhibition space on the Vistula Boulevards. In 2019, construction began on the museum's new headquarters on Warsaw's Parade Square. The building, designed by the New York architect Thomas Phifer, is scheduled to open to visitors in 2023.
"During its 16 years, the Museum of Modern Art in Warsaw has collected over 1,000 works. As a result, it was very important for us to find optimal storage facilities that would allow us to secure both appropriate storage and conservation conditions for all of the collections in our possession. These aspects are of key importance not only for the accumulation and expansion of the museum's art collection, but also for expanding access to it. Another unquestionable advantage is the high quality of space and excellent location of the storage centre", comments Hubert Kowalski, Operations Manager at the Museum of Modern Art in Warsaw.
Urban logistic warehouses can offer interesting opportunities for tenants which would not typically be associated with this type of space.
"The lease transaction concluded by the Museum of Modern Art in Warsaw perfectly illustrates the fact that cultural institutions need professional storage facilities of an appropriate standard as well. Such expectations are met by the Hillwood Warszawa Targówek investment, which was developed not only as a state-of-the-art distribution centre, but also an urban base for local institutions and companies. The possibility of adapting part of the warehouse for the needs of cultural institutions and the attractive location of the new park were among the reasons why MSN chose Hillwood's urban warehouse in Targówek", notes Piotr Chabracki, Consultant at Industrial Agency, JLL.
Hillwood Warszawa Targówek is a modern warehouse park, comprising two buildings totalling over 49,000 sqm of space. It is located in the eastern part of Warsaw, approximately 10 km from the city centre and 15 km from Warsaw Chopin Airport. The urban warehouse park is located only six km from the S8 expressway, eight km from the national road 2, and is located in close proximity to Warszawa Zacisze train station and numerous bus routes. Such a location means that Hillwood Warszawa Targówek is very well connected with other districts in the capital city and other parts of the country.
"It is an honour and a great pleasure for us to be able to cooperate with the Museum of Modern Art in Warsaw. For quite some time now, we have been observing growing interest in modern warehouse space from organizations operating in a range of fields - including cultural institutions such as theatres and museums. Modern A-class warehouses are constantly evolving, both in terms of the standard of buildings and their equipment", comments Katarzyna Żbikowska, Business Development Director at Hillwood Poland. "An important reason why the MSN chose our facility is that it is within easy reach of Warsaw city centre, allowing the MSN to quickly transport works of art to its new headquarters in the very heart of Warsaw", adds Katarzyna Żbikowska.
Security in the warehouse complex is ensured by round-the-clock surveillance and camera monitoring. Hillwood Warszawa Targówek offers standard warehouses (class A) and modern building space, including heated warehouse areas, skylights, LED lighting, as well as common areas, including a number of parking spaces. The property also includes vehicle manoeuvring areas.
Source:// Property Forum