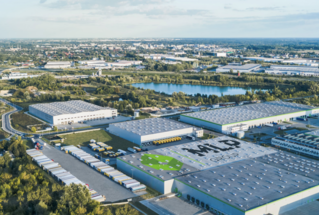 MLP Group maintains its commitment to implementing sustainable solutions in its logistics parks. BREEAM certification with a rating of Very Good or higheris obligatory for all its new projects. This facilitates analysis of sustainable development indicators covering a number of environmental considerations. Also, MLP Group has initiated a process to bring its existing facilities in line with green certification requirements with the ultimate goal of securing BREEAM certification for all properties in its portfolio.
These efforts have resulted in MLP Pruszków II, one of the largest logistics parks in Poland, being awarded a BREEAM In-Use International Excellent certificate.
The BREEAM certification scheme is currently one of the most commonly applied methods for assessing buildings in terms of their environmental performance and functionality. The certificate also confirms a project meets
sustainable development requirements and is friendly both to the environment and building occupiers. 'Health and well-being', 'land use and ecology', 'energy' and 'pollution' were very highly rated in the certification process, with 'materials' and 'waste' receiving maximum scores.
Sustainability has become a daily commitment for the developer, who has been making consistent efforts to minimise its adverse environmental footprint.
'We focus on projects fitting into our sustainable development strategy. Our aim is to build energy efficient and environmentally friendly properties. We attach great importance to a widespread use of photovoltaics, which helps to reduce greenhouse gas emissions. We have an ambition to become a net-zero emissions business in the next two to three years. Sustainable solutions enhance the attractiveness of our offer, reducing operating costs for tenants. This is vital to companies with long-term contracts,' said Karolina Pokora-Malewska, PR Manager at MLP Group S.A.
Adapting their warehouse and industrial facilities to the latest sustainability trends has become an essential part of strategies pursued by most developers. MLP Group has been consistently implementing novel solutions in its new facilities. For instance, glazing is used in office spaces to increase daylight and provide employees with better working conditions, and the Asset Information Model (AIM) has been deployed to administer and control facility systems. MLP Group also uses the Interact Industry system as an innovative platform for improved lighting management and monitoring, which helps to reduce electricity consumption, improve warehouse safety, optimise space utilisation and reduce operating costs.