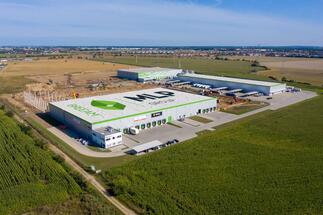 The first hall will offer about 20.8 thousand. sqm., the second - about 22.7 thousand. sq m, and the third - about 47.5 thousand. sq m Some of the facilities will be elevated to 11.5 m.
Thanks to several years of cooperation, each subsequent MLP Group facility is implemented more efficiently and we can focus on the implementation of modern technologies and sustainable solutions. We already achieve the highest level of BREEAM certification. The win-win principle is at work here - said Janusz Signetzki, Vice President of WPIP
The center is being built in accordance with the principles of sustainable development. All facilities will be BREEAM certified at the Excellent level. Installation of photovoltaic panels is planned on the roofs of the buildings. Infrastructure for cyclists, electric car charging stations and houses for insects are being built in the park. The Asset Information Model (AIM) will be used to administer and control object systems.
We are entering the construction of really large warehouse facilities of the order of 50,000 sq m. sq m, i.e. big box. Our activities in this area include, among others MLP Poznań West project, which is developing very dynamically - emphasized Agnieszka Góźdź, sales director at MLP Group.
The MLP Poznań West distribution center is a complex located on the western side of Poznań, next to the S11 expressway and 7 km from the junction of the A2 motorway and the S11 route. The center is aimed primarily at companies from the e-commerce, logistics, distribution and light manufacturing sectors. The MLP Poznań West project will ultimately provide approximately 150,000 sq m. sq m warehouse and office space.