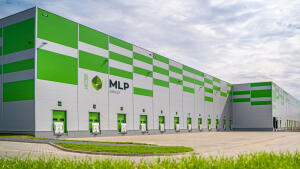 MLP Czeladź has become another logistics centre in the MLP Group portfolio for which an environmental certificate has been issued. Following assessment in the BREEAM International New Construction Version 6.0 certification system for the post-construction stage, two buildings, B1 and B2, were rated as Excellent. The next planned buildings, offering space of 34,020 sqm, are also to be delivered according to the highest standards, which will also be confirmed by BREAAM certification.
The highest scores in the assessment were obtained in the Waste, Water and Materials categories. The materials used to build the facilities are innovative and environmentally friendly. Have an Environmental Product Declaration (EPD), and all embedded and wood-based materials used in the construction of the facilities have an FSC declaration, guaranteeing their origin from a legal source.
Among the many innovative solutions introduced in the facilities are the installation of meters (for electricity, water and gas) separately for the individual sections of the facilities and the possibility of remote reading of utility consumption, enabling their optimised use. Energy-efficient light sources with long life have been used, as well as motion sensors in the toilet stalls along with water shut-off valves, and aerators to save water.
During the development process, a range of analyses was carried out on the facilities' acoustics and flood risk, as well as a life cycle assessment (LCA). A climate change adaptation strategy was developed and energy consumption projections for the operation stage were made. A biodiversity management plan was also drawn up and used to sow a wildflower meadow and build an insect house in biologically active areas. In addition, 500 shrubs of native species were planted.
"We are consistently implementing sustainable solutions in our logistics parks. BREEAM certification with a rating of Very Good or higher is obligatory for all new projects. This facilitates an analysis during construction of sustainable development indicators covering a number of environmental considerations. Moreover, we are bringing our existing facilities into compliance with green certificates, with the ultimate goal of securing BREEAM certification for all properties in the MLP Group portfolio by the end of this year," said Tomasz Zabost, Member of the MLP Group S.A. Management Board.
Once completed, MLP Czeladź will offer clients four A-class buildings with a total of 72,797 sq m of warehouse and manufacturing space. The project is sited on a plot of 15.5 hectares. The park offers good access to the junction connecting the A4 motorway with the S1 expressway and is located in the vicinity of the S86 expressway linking Łódź with Tychy, 15 kilometres from the Katowice airport and 11 kilometres from the Katowice centre.
Source:property-forum.eu