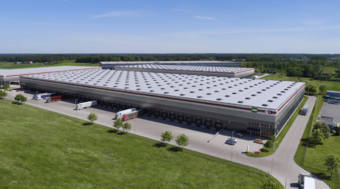 Bartłomiej Hofman, Managing Director of P3 Logistic Parks in Poland: "Recent quarters have shown how attractive Mszczonów is for companies which represent a variety of industries - at the beginning of last year, we opened a new central warehouse for PepsiCo there, which was followed by opening a sorting facility for InPost a few months later. The park has got an excellent location near the major motorways, which ensures fast transportation to every part of Poland. The warehouse for HOPI is going to be fully customised. We are glad to be able to participate in this way in the development of our business partner, who has decided to entrust P3 with the creation of its new main warehouse in Poland."
HOPI is one of the largest logistics service providers in Central Europe, specialising in warehouse services, co-packing, and forwarding services for leading FMCG manufacturers and retail chains. HOPI leases warehouses in other parks which belong to P3, including in the Czech Republic and Romania.
Robert Korczakowski, Managing Director of HOPI PL: "As a result of the dynamic development of our company, we need to provide our customers with newer and most modern services and logistics solutions, which require more space. P3 has met our expectations and proposed dedicated solutions. Moreover, Mszczonów is placed in a key location for us: close to Warsaw, and with an easy and quick access to major cities in the region. A huge advantage of this place is its proximity to expressways and motorways, as they will enable us to efficiently distribute our products throughout the country."
HOPI will move into the warehouse facility comprising of approximately 32,600 m2 of the warehouse space, with a three-storey office of approximately 1,310 m2, behind a glass facade. Due to the type of operations which HOPI carries out, approximately 60% of the warehouse space will be suited to perform operations in the temperature-controlled environment. The facility will have a non-standard height of 12 m net, and a reinforced floor (7.5 t/m2). The building has been designed with the sustainable development principles in mind. The warehouse will have e.g. facade panels with a PIR core to ensure a more effective insulation from external factors, and its roof will be reinforced so that photovoltaic panels can be installed there in the future. LED lighting with DALI control system will provide light inside the warehouse, lights in bathrooms will be controlled by motion detectors, and taps with infrared aerators and grey water recovery system will enable saving water. Also, a solar system for preheating water will be installed in the warehouse. In front of the facility, there will be parking spaces for bicycles, and charging stations for electric cars. The LED external lighting there will be controlled by an astronomical clock. The warehouse is going to be certified in the BREAM system on the Very Good level.
BNP Paribas Real Estate, a consulting company, represented the client during the lease transaction process.
Igor Roguski, Director of Industrial and Logistics Spaces Department of BNP Paribas Real Estates: "HOPI was looking for a new warehouse which might play a key role in the customer distribution network and be fully adapted to its needs. P3 fulfilled these expectations by offering a tailor-made investment in the P3 Mszczonów park. Our cooperation in this project went beyond the subject of the lease agreement, as
together with HOPI and our Project & Development Consultancy Department, we have developed the Work Place strategy which will streamline work between the warehouse and office areas and translate into effective cooperation processes."
The P3 Mszczonów park is located just 50 km south-west of Warsaw, along the S8 expressway connecting the capital city with the south of Poland. It is also near the A2 motorway, which spans the western and eastern parts of Poland, and the A1 motorway, which runs from south to north.