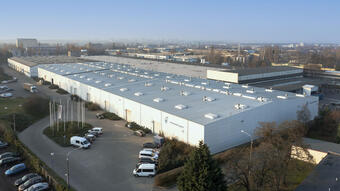 The property is located at 50 Mogileńska street in Poznań, in the East side of the city, near Malta Lake area. It is only 3 kilometers from the Poznan ring road and 5 kilometers from the city center, allowing effective communication for employees and good transportation. The property offers ca. 17,000 sqm of warehousing and production space with 2,800 sqm of office space. It is leased to renowned and highly specialized tenants, such as HT Laser, Tasko Projekt, FUP or PLI Logistik.
"Mogileńska warehouse transaction proves strong investors' interest in well-located production facilities and city logistics projects. Long leases and crisis resilient tenant mix allowed us to close the transaction successfully within the expected timeframe. Thanks to good relationship with the Client and knowledge of his investment criteria, we were able to find an investment product matching very well M7's global investment strategy", comments Bartlomiej Krzyzak, Senior Director, Investment at Avison Young in Poland.
This is the seventh acquisition on behalf of the Fund, which is now 75% invested following the first close in 2020. The target size of the fund is circa €100m.
Allen&Overy provided the buyer with legal advice.