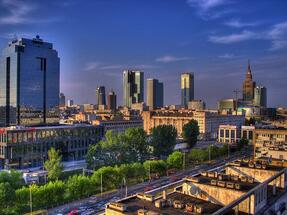 Logistics facilities in the heart of Germany's urban centers seem to be in demand as never before. E-commerce and its promise of fast delivery times is forcing logistics providers to move ever closer to end customers. But suitable sites for inner-city logistics are scarce, and in the battle to win support from local residents and political leaders, these projects face tough competition from other asset classes such as residential or offices. At a press briefing organised by Feldhoff & Cie. in Frankfurt, André Banschus, Executive Director at Verdion, Marcel Crommen, Managing Director at NAI apollo group, and Marius Schöner, Country Head for Germany at CBRE Global Investors talked about the challenges to futureproof logistics facilities and investments.
The participants in the discussion agreed that the industry is still in the process of finding logistics solutions within or near Germany's major cities. "There are a lot of interesting approaches," says Crommen of NAI apollo. "The ideas range from the much-talked-about use of delivery drones, to crowd logistics, the night-time use of underground parking garages for redistribution to delivery vehicles, and even the use of shipping containers as local redistribution points." For example, in a pilot project with the City of Frankfurt, UPS is using a lorry parked near the Frankfurt Stock Exchange as a so-called micro-depot for the distribution of parcels to bicycle couriers. As soon as all the parcels have been distributed to the couriers, the lorry leaves the city and is refilled. "There are no standards for inner-city logistics yet," adds Crommen.
It is this lack of standards that is holding back institutional investors from engaging in urban logistics. "Investors love products for which certain standards have already been defined, because these standards ensure suitability for other users and thus the liquidity of the assets," explains Schöner of CBRE Global Investors. "In addition, the ticket sizes involved here are often too small for institutional investors." Schöner believes, however, that specialists could emerge in this area who – as with the now well-established asset class of student housing – will buy or build individual assets and bundle these into larger portfolios. "Likewise, investment into mixed-use real estate projects including a logistics component is also likely to grow." Among the specific opportunities that he sees are vacant department stores and shopping centers with structural vacancies in Germany's inner cities.
One logistics product that has already made it onto investors' acquisition lists are cross-docking facilities on the outskirts of big cities. "Even though these trans-shipment centers are, in some cases, quite specifically tailored to the needs of the respective tenant, the desirable near-city location means that alternative users can be quickly found, so that investors can count on third-party usability," explains Schöner.
While the boom in the logistics industry is undisputed, Banschus of Verdion questions the general future viability of the concept of delivering goods to homes within just hours. "It makes more sense to have, for example, depots in city business districts, where customers can pick up their parcels on their way home from work." His own experience is that more and more logistics operations are being forced out of inner cities. An example of this is Imperial, a specialist in chemical logistics, which for 40 years operated a logistics centre on a long-term leasehold property in Münster's river port, right near the city centre. "In recent years, as the city's port area was redeveloped to house high-priced residential properties and posh restaurants, Imperial had to give way," says Banschus. The city gave notice of termination of the leasehold, offering the company a new site located outside of the city. Meanwhile DeLaval, the giant dairy solutions provider previously based in Hamburg, searched in vain for ten years to find a suitable plot within the city's boundaries for its new European distribution centre. "Unsuccessfully, as it turned out," says Banschus. "In the end, we constructed a new building for DeLaval in Gallin, 50 km to the east of Hamburg." With the move came the challenge of convincing as many employees as possible to stay with the company. "For almost all companies, in logistics or any other business, proximity to potential employees is far more important than proximity to end customers," explains Banschus. "The balancing act between availability of space and availability of staff is a major challenge for the industry."
Schöner is calling for cities to develop master plans for logistics, "just as there is, for example a building plan for all the high-rise towers in Frankfurt," he adds. "For a working system for distribution and delivery within big cities, a similar solution is needed for logistics. Until this happens, we will remain in a phase of experimentation, in which many things are not yet fully developed." Crommen also pleads for higher delivery costs: "If delivery services were priced appropriately, logistics providers would be able to pay the rental costs for these inner-city locations."
About CBRE Global Investors
CBRE Global Investors is a global real asset investment management firm with $104.2 billion in assets under management* as of March 31, 2018. The firm sponsors investment programs across the risk/return spectrum for investors worldwide. CBRE Global Investors is an independently operated affiliate of CBRE Group, Inc. (NYSE:CBRE). It harnesses the research, investment sourcing and other resources of the world's largest commercial real estate services and investment firm (based on 2017 revenue) for the benefit of its investors. CBRE Group, Inc. has more than 80,000 employees (excluding affiliates) and serves real estate investors and occupiers through approximately 450 offices (excluding affiliates) worldwide. For more information about CBRE Global Investors, please visit www.cbreglobalinvestors.com. *Assets under management (AUM) refers to the fair market value of real asset-related investments with respect to which CBRE Global Investors provides, on a global basis, oversight, investment management services and other advice and which generally consist of investments in real assets; equity in funds and joint ventures; securities portfolios; operating companies and real assetrelated loans. This AUM is intended principally to reflect the extent of CBRE Global Investors' presence in the global real asset market, and its calculation of AUM may differ from the calculations of other asset managers.
About NAI apollo group
NAI apollo group represents a network of individual, entrepreneurial and independent partner companies. The partner network takes an interdisciplinary approach and, with its team of 200 specialists, operates both nationally and internationally in the office, industrial, residential and retail property classes. Partners of NAI apollo group in Germany are corealis Commercial Real Estate GmbH (Dusseldorf), Cubion Immobilien AG (Mulheim an der Ruhr), Kasten-Mann Real Estate Advisors GmbH & Co. KG (Berlin), Larbig & Mortag Immobilien GmbH (Cologne/Bonn), NAI apollo real estate (Frankfurt am Main, Munich), Objekta Real Estate Solutions GmbH (Ulm), Strategpro Real Estate GmbH (Mannheim) and Völckers & Cie Immobilien GmbH (Hamburg).
About Verdion
Verdion is a leading European real estate investor, developer and asset manager of industrial and logistics property. Verdion provides new buildings for Europe's leading logistics, e-tailing and industrial companies on a full design and financed basis. The company also acquires and controls large areas of strategic development land to meet the needs of its client partners. Verdion's European portfolio has an investment value of circa €1 billion. The company has a further development pipeline of some 10 million sq ft (930,000 sq m). Verdion was founded by Michael Hughes in January 2010. Headquartered in London, Verdion also has offices in Düsseldorf and Malmö.
About Feldhoff & Cie.
As the leading consultancy for the property industry, Feldhoff & Cie. GmbH offers comprehensive services across three specialised corporate divisions: business development, communications and event & congress management. The company sets itself apart through its extensive and resilient network with excellent ties to diverse players in the property industry as well as politics and society. Since its foundation in 2003 in Frankfurt, the firm has grown continuously and now has over 20 employees working on behalf of its clients. Feldhoff & Cie focuses on the development of well-grounded, differentiating as well as attractive strategies and activities in order to gain tangible economic results and a competitive edge for its clients.