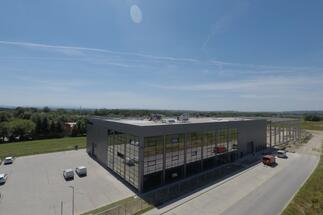 In 2020, InPost will already have 14 logistics centres: four Panattoni Europe areas, the existing, extensive central sorting plant in the P3 Piotrków warehouse park, sorting plants in logistics parks – 7R Park Sosnowiec and 7R Park Warsaw West I, 7R Park Tczew, 7R Park Rzeszów and 7R Park Gdańsk II, as well as modern facilities in MLP logistics parks Poznań West, MLP Gliwice and MLP Wrocław West and KJF Park Balice.
AXI IMMO with InPost
'We have just finished the best pre-Christmas peak in the company's history, but we do not slow down, we continue to develop and start preparing for the next holiday season today. In 2019, we started investing in new sorting plants throughout Poland, thanks to which we efficiently deliver up to 6,000 parcel lockers In all of Poland – also in small towns and in the countryside. This year we are continuing this strategy – next logistics centres will allow us to further strong growth while maintaining the best parameters of parcel delivery. All studies confirm that Poles are most willing to choose Parcel Lockers because they are convenient, and They quickly receive their orders in them '- indicates Rafał Brzoska, the president of InPost.
The demand for InPost services is steadily growing – the number of self-service parcel lockers (6,000 devices in Poland) has exceeded the scale of Poczta Polska's own branches (4,600).
'The biggest challenge in the project was to find the right land in a location that provides quick access to various parts of Krakow. Region has a shortage of investment land – all the more in well-connected parts of the city, not every area also allows cross-dock investments. The customer-oriented approach of the owner of KJF Park Balice and the clear requirements of the tenant allowed for the efficient implementation of BTS investments for InPost.' – comments Tomasz Rąba, senior industrial & logistic consultant at AXI IMMO.
InPost logistics centre in KJF Park Balice
'I am glad that InPost has decided to cooperate with us. We are open to the needs and solutions required by our clients, which results in another lease agreement at KJF Park Balice.' – comments Łukasz Wicher, co-owner of KJ Fund.
InPost is the largest logistics operator in Poland, in which American investment funds Advent International and KKR have invested. The company offers courier services. It also offers deliveries via the nationwide network of Parcel Lockers InPost self-service for individual and institutional clients, including comprehensive services dedicated to e-commerce. In 2018 InPost delivered over 86 million parcels, i.e. 52.5% more than the year before. Deliveries via parcel lockers increased by 56.3%, and by Courier InPost by 45.5%.
Source: AXI IMMO