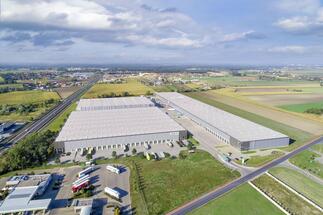 The newest building in the GLP logistics park has over 28,600 sq m. sqm, and the new GLP Warsaw V Logistics Center investment - 23,400 sqm. warehouse, production and office space. GLP started construction this year. Both facilities are being built in accordance with the requirements of BREEAM certification at the Very Good level.
The buildings offer the companies using them the possibility of storing them up to a height of 12 meters, as well as providing additional illumination of the dockside zone with natural light thanks to the above-standard number of skylights in the ceilings of the halls. The roofs of the buildings are prepared for the installation of photovoltaic panels. The pro-ecological solutions also include charging stations for electric cars and parking shelters for bicycles. In both projects, great emphasis was placed on biodiversity and care was taken to create green areas conducive to relaxation.
The commencement of the implementation of new projects in Poznań and in the vicinity of Warsaw results from the great interest of customers in both locations. In both cases, we are talking about buildings with very good access to key road routes, and at the same time in the immediate vicinity of the agglomeration with a base of several million end users. In both cases, we also focused on a full package of sustainable development solutions, thanks to which our clients can not only develop their business, but also record long-term savings related to the use of logistics space - comments Jarosław Czechowicz, GLP country manager in Poland.
At the same time, GLP continues the construction works started a year ago, including in Magnice near Wrocław (41,000 sq m in the first two halls) and in Gdańsk, where the fifth building is being built as part of the Pomeranian Logistics Center (39,000 sq m, fully leased).