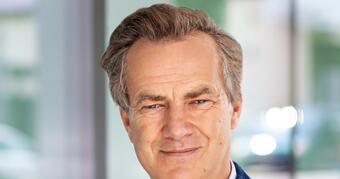 It started out ten years ago as a small local company. Today it is the third largest warehouse developer in Poland in terms of space under construction, and all its buildings are fully leased before completion. So we spoke to Tomasz Lubowiecki, the CEO of 7R, to find out how such a feat was achieved and if it can be sustained.
Tomasz Cudowski, Eurobuild CEE:More than a year ago, you announced ambitious plans for the construction of 7R City Flex Last Mile Logistics, a project typical of your focus on small facilities within the boundaries of cities. How is your latest baby developing?
Tomasz Lubowiecki, CEO, 7R: I can say that the parents are very happy with the development of their offspring. The first few projects have already been completed and leased, in Szczecin and the TriCity. Others, such as 7R City Flex Łódź I, are close to completion. We are particularly proud of our Łódź project due to its location and exposure – visitors entering the city are greeted by our logo at the motorway interchange. We have started construction on a project in Warsaw, while others in Wrocław, Kraków, Katowice and Bydgoszcz are at various stages of the investment process. Thus our two-year plan, which entails the construction of urban warehouses in key cities in Poland, is being carried out according to plan.
This is an impressive momentum, especially for a network of speculative buildings. Are there enough companies willing to lease all this space?
We're not really having any trouble with the leasing. All these projects – even before the digging of the first hole – are secured with a suitable number of preliminary contracts, which allows us to obtain financing without any major difficulties. All the completed facilities have been 100 pct leased even before they were put into operation, which makes us particularly happy.
How did a local company from Kraków become a serious market player, an equal partner of the largest
investors?
This probably won't sound so original, but it's the truth: it was possible only because of the hard work of the whole team. Today we have more than 60 employees and thanks to them the number of projects launched each year has increased from just a few to many more. Such growth, which has been rapid but steady, would not have been possible without investment in people. 7R is the knowledge and experience of our employees, and thus we can provide customers with more than just warehouse space. Our ideal locations, cutting edge technology, flexible systems, knowledge, professionalism and, above all, our team's commitment are the pillars of 7R. The biggest investors appreciate this and invite us
to cooperate with them as their desired partner. This is a dream situation for a once small company from Kraków.
But does a company that grew out of a small local operation have any advantages over the giants of the warehouse sector?
Our greatest asset is the local knowledge we have gained in the course of projects carried out on local markets: in Kraków and the TriCity. It's not difficult to lease space in regions with high demand and international players. It's more difficult in secondary markets, and our experience pays off in this respect. The fact that we are really good at this confirms the high volume of pre-lease contracts signed at the project execution stage, which I've already mentioned. Another advantage that we have built up in our ten years of activity is respect for each client – no matter how substantial
their needs are. I should also mention our decision making speed: having a flat organisational structure and excellent communication, we don't have the disadvantage of a multi-stage, time-consuming process.
How do you deal with perhaps the main challenge facing the sector – the growth in construction costs?
The rising construction costs have been impacting our entire sector and we are no exception to this. However, price increases are a natural process, especially in a bull market when there are the related increases in the cost of materials, employees and services. Our tenants and business partners are also aware of this and there's no denying that the increase in costs is also reflected in higher rent levels. What works in our favour is our know-how and having our own design department as well as our team of inhouse engineers, which continues to develop and is on the lookout for new systems designed to optimise and minimise the impact of these costs on rents. Because of this we can be one step ahead of our competitors.
Another challenge facing the real estate sector, and also the entire economy, is the shortage of labour. Developers not only have to cope with this in their own field, with the lack of construction workers, but they are also getting involved in resolving similar difficulties faced by tenants, who can be wary of buildings in locations where they might have problems attracting the right employees.
The labour market is currently a hot topic, and not only when it comes to warehousing. On the one hand, this is a big problem because the decision to rent is actually strictly dependent on the possibility of attracting a workforce
in the area. But let's instead see this problem as a glass half-full. In fact, it has created new markets. Secondary cities, such as Kielce,Rzeszów, Białystok and Lublin, which were only previously of interest to local companies and the demand for modern warehouse facilities was low have now started to play an increasingly important role alongside those regions more traditionally popular among warehouse tenants. These have now been added to the country's warehouse map – also helped by the development of the road system, which is improving from one year to the next. More and more tenants and serious capital are now heading for these areas.
What role does innovative and advanced technology play in building your market position today?
An ever-greater role. Warehouses are not only large halls for the storage or customising of goods. They are increasingly complex organisms that have to meet tenants' growing requirements. This entails the automation of as many processes as possible, which is not only a remedy for the employment problems we've mentioned, but also provides a competitive advantage.
How do you implement sustainable development measures? How much do you consider the well-being of employees and the local inhabitants?
From the very beginning of our company's development, we felt a responsibility towards our employees and neighbours. For this reason we also place great emphasis on the use of environmentally friendly construction systems: we try to illuminate the interiors of our buildings with the maximum amount of natural daylight; we use energy-efficient LED lighting; and we strive towards low water and energy consumption. Our goal is also to create employee-friendly places, which – as I've mentioned– improves the comfort of work and so makes it easier for tenants to recruit employees. These are just a few of our approaches, thanks to which all our buildings have no difficulty in being awarded BREEAM certificates, while the tenants can score additional points from their contractors for having a 'green supply chain' that requires environmentally friendly systems when storing, transporting or even packing goods.
Where does the company's involvement in promoting sport come from? Is it because the CEO is a Polish amateur champion at alpine skiing?
Sport is written into the company's DNA, in a sense. As I mentioned, we are keen supporters of local amateur sport. This also includes a league volleyball team, WTS Solna Wieliczka, and the cyclists on the 7R CST MTB Team.
What expansion plans does 7R have for the next few years – new formats, new markets or maybe new market sectors?
We are definitely going to continue to grow. In terms of the volume of warehouses under construction, we are now the third biggest developer in Poland – this position really suits us and we would like to keep it, but it's not an end in itself for us. The quality of the projects we deliver to the market has always been and will always be our priority. Within ten years we have transformed from a local company into a nationwide player. We want to strengthen this position with more big box and cityflex projects. First of all, our goals
Source: 7R Logistics