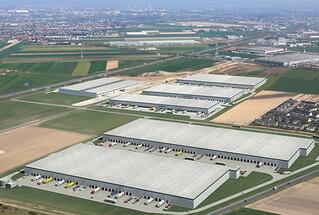 DB Schenker is a leading global logistics provider that supports its clients in the global exchange of goods through land transport, air and sea freight, contract logistics and supply chain management.
"Panattoni responded to our client's requirements with a first-rate location, space for further expansion and favourable lease terms. It is a new facility which was easily adapted to the needs of DB Schenker," says Kamil Szymański, Associate Director, Industrial Agency, Savills.
The tenant began operations at the new facility in April 2019 where it provides on-site contract logistics services for one of its automotive industry clients.
"It is another warehouse location recently opened by DB Schenker. In addition to our strong track record in logistics for automotive aftermarket companies, we also run many projects for firms from other sectors including chemical and food industries," says Dariusz Doroś, VP Contract Logistics Northeast Europe DB Schenker.
Panattoni Park Poznań VIII is Panattoni Europe's distribution centre offering approximately 85,000 sq m of modern warehouse space. It currently comprises two buildings for storage and light manufacturing. The scheme is located near the interchange of the A2 motorway and the S5 and S11 expressways.
Source: Savills