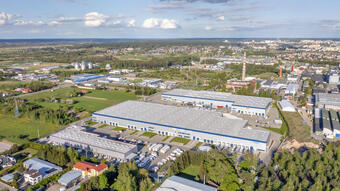 Białystok, the largest city in northeast Poland and the capital of the Podlaskie Voivodeship is one of the newest flags on Poland's map of warehouses. "We were the first to invest in modern warehouse infrastructure in this region. Both of our parks remain fully leased, and we are extending the agreements with our tenants who are increasingly eager to expand their occupied space", said Jarek Wnuk, Managing Director of Accolade in Poland. "There are several reasons for the further development in Podlaskie, but key factors include a qualified workforce and available investment areas", added Wnuk.
The new industrial park in Choroszcz consists of two buildings and has a total area of over 36,700 sqm. The parks in Białystok and Choroszcz, like the rest of the warehouses in the company's portfolio, hold BREEAM certification. Accolade has equipped the parks with diverse elements, such as electronic waste containers, external defibrillators, insect shelters, rain gardens, as well as benches and tables made from composite materials derived from recycled clothing.
"The warehouse space market in the Podlaskie Voivodeship is one of the emerging markets most worthy of our attention. Despite the fact that the first big-box investment in the region was made as recently as 2018, this market is currently developing very consistently. At the end of Q2 2023, the total amount of class A rental space built reached 97,000 sqm, which represents a year-on-year increase of 41%. At present, the vacancy rate in the Podlaskie Voivodeship stands at 3%, and in Białystok itself and its immediate surroundings, it hovers around 0%. The headline rental rates range from €3.99 to €4.40/sq m. The forecasts for Białystok seem favourable, mainly due to the continuously modernised road infrastructure (the S8 express road between Białystok and Warsaw, as well as the ongoing construction of the Via Carpatia). The decision to invest in Białystok is also supported by the still untapped labour market and the proximity to the Baltic region, for which the city can serve as a good location for a logistics centre", said Tadeusz Drozd, Negotiator, Industrial Agency, Cushman & Wakefield.
source:property-forum.eu