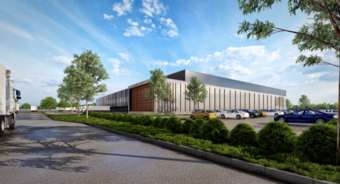 The investment in the Netherlands is a logical step in diversifying our portfolio towards Western Europe and continues the development of modern complexes in the nearby German cities of Bochum and Alsdorf. Our long-term goal is to provide a first-class and sustainable infrastructure for modern business throughout Europe, and I am glad that after stabilizing the network of 36 parks in Central Europe and Germany, we set out for a dynamically growing market that offers truly ideal conditions for investors and companies for further development," comments Milan Kratina, CEO of Accolade, on entering the new market.
The logistics park in Roermond near the town of Venlo with a population of 100,000 inhabitants lies within an easy reach of the industrial and commercial centres in Düsseldorf and Cologne. It is also considered the gateway to the international ports of Rotterdam and Antwerp.
"The Venlo region has been rated the most important logistics region in the Netherlands nine times since 2005. Half of the ten largest logistics transactions of 2019 with a total value of EUR 400 million took place in Venlo and its immediate surroundings. The prerequisites for further development are thus ideal. In terms of attractiveness for companies, more than 46 million customers are within a driving distance of two hours. Thanks to these factors especially, our complex is also an ideal place for distribution and logistics of third parties, which is an important factor of success in the time of global expansion of e-commerce," comments Milan Kratina, CEO of Accolade.
The region, home to over one million inhabitants, has a dense network of motorways: the A67 leading from Dortmund to Antwerp, the A73 connecting Venlo with the metropolis of Amsterdam and the A52 leading to Düsseldorf, Germany. The two "barge" terminals on the river Máza offer excellent transport connections with the rest of Europe. There is an inland container terminal with a capacity of 12,000 TEU per month at about ten minutes distance from the park, and nearby is a Dutch railway terminal connecting the region with northern Sweden. In addition to the one-and-a-half-distant cargo ports of Rotterdam and Antwerp, there are also four international airports within a 60-minute drive: Eindhoven, Düsseldorf, Weeze, and Cologne.