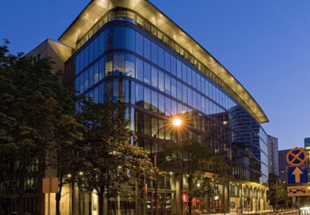 The Tristar Grodzisk facility is located in the vicinity of the Grodzisk Mazowiecki junction of the A2 motorway, and at the planned Grodzisk Mazowiecki ring road. It is a modern industrial park offering over 37,000 sq m of warehouse space in two separate Class A buildings.
"Tristar Grodzisk is a very interesting location, attracting broad interest among potential tenants, particularly from the transport and logistics industry, including our new tenant – GTLS. The location of Tristar Grodzisk close to Radonice and the A2 motorway, creates optimum conditions for distribution both to the Warsaw market and the rest of central Poland. It also enables fast access to the motorway which runs to the German border, and the S2 road, which provides a connection to the south ring road of Warsaw. Simultaneously, Tristar Grodzisk was built in late 2015 / early 2016, so is a relatively new facility. Tenants appreciate the modern space and interiors, which allow them to use the space in a flexible way", says Urszula Rasmussen, Head of Industrial Leasing, White Star Real Estate.
Mazovia voivodship and the Warsaw region constitute the most dynamic warehouse markets in Poland. It is estimated that over 100 modern industrial and logistics parks, with nearly five million square metres of warehouse space, predominantly Class A, are located here.
"The area has been popular among businesses for a long time now. It consists of the former Poznań route - the 92 expressway – in the vicinity of Błonie, and now also has the A2 motorway close to Grodzisk Mazowiecki. Its growth is stimulated additionally by the excellent network of well-connected roads. Despite high volumes of new investments in the area, we are able to maintain 100% occupancy, owing to the very good services we provide, as well as our cooperation with tenants, and regular investments in modernisation of our facilities. . Due to the low availability of land in Warsaw and rather high prices in the few Warsaw locations still available, a very high demand for warehouse space in the area around Tristar Grodzisk is expected. It is also worth mentioning that for this park, owing to the high demand, talks with potential tenants start well in advance, which allows us to plan for potential tenant turnover so that we constantly increase the value of our portfolio", adds Urszula Rasmussen.
According to the consulting firm Cushman & Wakefield, which recently surveyed warehouse developers, one of the most important trends in 2021 will be a focus on warehouse locations outside city centres (as claimed by 38 percent of developers). Simultaneously, investments will still prevail on the so-called 'Big Five' markets. As many as 88 percent of developers are planning to launch new warehouse investments this year on the five most important markets, that is, around Warsaw, Wrocław, Poznań, in the Upper Silesia, and in central Poland.
"We are constantly monitoring the market and are ready to increase our portfolio of Class A warehouse and production properties. We are currently searching for attractive assets in all Polish regions, both single locations and larger portfolios", said Bartosz Szewczyk, Managing Partner at White Star Real Estate, summarising this data.
Tristar is a joint venture of Tristan EPISO 4 and White Star Real Estate, set up in 2018 and aimed at investments in Class A logistics properties. Its portfolio currently comprises five locations in Poland, including warehousing and logistics parks close to Poznań, Wrocław, Katowice, Gdańsk and Grodzisk Mazowiecki, with the total space of almost 162,000 sq m. All properties are managed by White Star Real Estate.