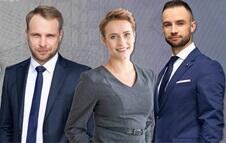 Mira Matusiak, Wojciech Przybylak and Tomasz Bulej have joined the Industrial and Logistics Agency of global real estate services firm Cushman & Wakefield.

Mira Matusiak was appointed as a Negotiator at Cushman & Wakefield with responsibility for warehouse and industrial space leasing, liaising with developers and tenants, client advisory, business development and oversight of projects in Lower Silesia. Mira has worked in real estate for over 10 years and has experience in cooperation with international companies and partners. She began her professional career in residential real estate. Prior to joining Cushman & Wakefield, she worked for SDP Nieruchomości as a Branch Manager. She graduated in Science in Professional Communication from Clark University.

Wojciech Przybylak joined Cushman & Wakefield as a Land Specialist with a focus on land analysis, review and acquisition for warehouse and industrial projects. His responsibilities also include advice on the Special Economic Zone, utility connections and provision of services for clients to roll out production. For the past three years he had worked as a Senior Urban Planner Assistant for SUNBAR, where he was responsible for zoning plans, land use plans, spatial analyses and related graphic designs and financial forecasts for approved zoning plans. Wojciech completed a master's degree program in Land Management and postgraduate studies in Real Estate Valuation at the Warsaw University of Life Sciences.

As a Junior Negotiator, Tomasz Bulej is responsible for warehouse and industrial space leasing, and liaising with developers and tenants. His other duties include market research into industrial and logistics space listings and client acquisition. He gained professional experience in the pharmaceutical industry with Pfizer and Teva as a Senior Pharmaceutical Sales Representative. Tomasz completed postgraduate studies in Business Psychology for Managers at Koźmiński University. He is also a graduate of the University of Physical Education in Warsaw.
Source: Cushman & Wakefield