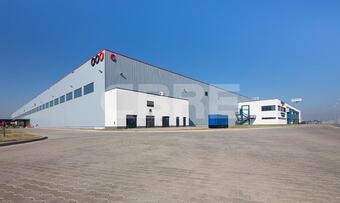 Firma Getinge od ponad stu lat dostarcza produkty i innowacyjne rozwiązania medyczne dla służby zdrowia oraz nauki i przemysłu. W parku SEGRO pod Poznaniem działa od pięciu lat i wraz z przedłużeniem umowy najmu przedsiębiorstwo zdecydowało się na powiększenie obiektu o dodatkowe 200 m2 przestrzeni biurowej.
- Decyzja o przedłużeniu umowy najmu powierzchni produkcyjno-magazynowej na terenie SEGRO Logistics Park Poznań, Komorniki była podyktowana świetnymi relacjami z deweloperem oraz elastycznością i szybką reakcją na nasze potrzeby. Getinge nieustannie się rozwija, stąd potrzebowaliśmy dodatkowej przestrzeni biurowej. Wspólnie z SEGRO w bardzo krótkim czasie znaleźliśmy rozwiązanie, które w pełni nas satysfakcjonuje – podkreśla Jakub Cegieła, Dyrektor Generalny Getinge IC Production. - Umiejscowienie obiektu w SEGRO Logistics Park Poznań, Komorniki jest elementem dobrze przemyślanej strategii naszej firmy. Poznań to miasto, które oferuje globalnym organizacjom dostęp do wykwalifikowanej kadry inżynierskiej oraz wyróżnia się doskonałą logistyką pozwalającą na sprawną dostawę produktów do klientów – dodaje Jakub Cegieła.
Dwa lata temu w parku SEGRO pod Poznaniem Getinge otworzyło dwie nowe linie produkcyjne wytwarzające nowe modele sterylizatorów dedykowanych szpitalom. Sprzęty produkowane przez firmę trafiają głównie do Stanów Zjednoczonych, Niemiec, Chin oraz Japonii. Rocznie na rynek dostarczanych jest ok. 1 500 produktów. Obecnie w firmie zatrudnionych jest ponad 170 osób i planowane jest zwiększenie zatrudnienia.
– Dzięki dostępności i zasobności rynków lokalnych, jak i dobrej infrastrukturze drogowej oraz bliskości najważniejszych węzłów komunikacyjnych, jesteśmy w stanie zapewnić naszemu klientowi odpowiednie warunki pracy oraz perspektywy rozwoju. Cieszymy się, że możemy współuczestniczyć w sukcesie, jakim jest wysoka efektywność prowadzonego przez firmę Getinge biznesu – mówi Waldemar Witczak, Dyrektor Regionalny SEGRO.
SEGRO Logistics Park Poznań, Komorniki położony jest w bliskiej odległości od Poznania (10 km). Magazyny cechuje znakomita lokalizacja i dostępność komunikacyjna, gdyż są usytuowane w okolicy węzła komunikacyjnego Komorniki – przy przecięciu autostrady A2 Moskwa-Berlin oraz drogi krajowej nr 5 z Poznania do Wrocławia. Gwarantuje to doskonałą łączność komunikacyjną z innymi regionami Polski oraz dostęp do wykwalifikowanych pracowników.

Source: SEGRO