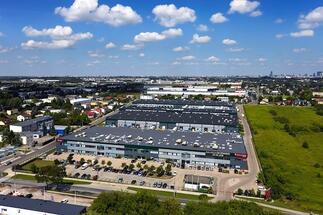 X-press Couriers is an exclusive partner of SkyNet Worldwide Express in Poland, which provides services to businesses in the e-commerce sector and for individual clients.
"Our business strategy is closely linked to the e-commerce market that key premise is fast and efficient delivery of ordered products to the customer. Choosing DP Okęcie for our new central magazine was determined by its location," commented Adam Tomczak, Chairman of the Board X-press Couriers.
The second company that has decided to rent office space in DP Okęcie is Aromanti, an importer and distributor of fragrances for interior, such as: American scented candles Village Candle, British fragrance lamps Ashleigh&Burwood and French perfume scents Clem Goa.
"We are delighted to welcome new companies among our tenants that are developing strongly in the e-commerce sector. DP Okęcie has a lot to offer to companies operating in this market segment. This is primarily the strategic location of the facility within the boundaries of Warsaw and in the close proximity of the Warsaw Chopin Airport," commented Julia Racewicz, asset manager at Hines Polska.
Nuair Polska, an international manufacturer and distributor of compressors and pneumatic accessories for the industrial, professional and individual segments, is the tenant who has decided to extend the contract at DP Okęcie.
"Long-term, good cooperation with Hines Polska confirms the right choice of Distribution Park Okęcie as the central warehouse and headquarters of our company. We are very satisfied with the quality of service and good business collaboration. Our employees also appreciate an easy access to the variety of public transport," said Magdalena Rostkowska, Nuair Polska.
Distribution Park Okęcie
Distribution Park Okęcie is a logistic centre situated near International Chopin Airport in Warsaw. It consists of four buildings with a total area of 39,000 square metres, including warehouses and offices. The park has 552 parking spaces with access to the storage space via 64 loading and unloading docks. Distribution Park Okęcie is located on the south-western outskirts of Warsaw, near the European route E67 connecting Warsaw, Łódź and Wrocław. The advantages of the centre include proximity of the airport, good access to the city centre (20 minutes) and convenient access to public transport. Tenants of the Distribution Park Okęcie include companies such as Johnson & Johnson, DPD Polska, Alcatel-Lucent Polska, Toshiba, Freyssinet, and LG Electronics. On behalf of Hines Global REIT fund, the owner of the park, Hines serves as asset and property manager of the center.
Hines
Hines is a privately owned global real estate investment firm founded in 1957 with a presence in 201 cities in 21 countries. Hines has approximately $100 billion of assets under management, including $54.5 billion for which Hines provides fiduciary investment management services, and $45.5 billion for which Hines provides third-party property-level services. The firm has 113 developments currently underway around the world. Historically, Hines has developed, redeveloped or acquired 1,262 properties, totaling over 414 million square feet. The firm's current property and asset management portfolio includes 529 properties, representing over 213 million square feet. With extensive experience in investments across the risk spectrum and all property types, and a pioneering commitment to sustainability, Hines is one of the largest and most-respected real estate organizations in the world. Visit www.hines.com for more information.