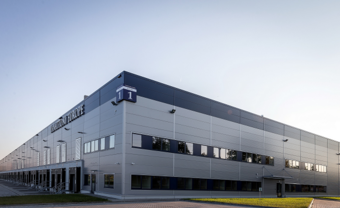 The SPECJAŁ Group is active in several sectors, has nearly 6,000 employees and 82,000 sqm of warehouse space. It delivers to 20,000 stores and currently operates 7,699 franchise schemes. The Group's brands comprise FMCG, medical, property and people security, and cleaning services. Its wholesale network is growing at a rapid pace.

SPECJAŁ has already opened three facilities this year: in Zielona Góra, Radom and most recently in Lublin. Following the review of its current locations and backed up by advisors, it has relocated one of its warehouses to Panattoni Park Konotopa II, where it has leased nearly 2,900 sqm.
"We aim high this year and want to accelerate the expansion of our wholesale network and increase our turnover by capitalizing on the changes we're making. Our new facilities are modern and tailored to our exact requirements, they are just what we need," says Zdzisław Wdowiak, Technical Director, Specjał Group.

The Group's new wholesale facility in Lublin comprises 3,000 sqm, including 300 sqm of office space, with enough space for 4,300 palettes. It also features a cold store and offers food, dairy and alcoholic beverages.

Panattoni Park Lublin is located near an interchange of Lublin's ring-road, in the vicinity of an international airport and a rail terminal. It consists of three buildings with a combined area of approximately 71,360 sqm.

"To advise the Specjał Group, we took a look at their current wholesale network and special requirements, and wanted their facilities to be easily accessible by clients. We are pleased that Specjał has opened a new branch in Lublin which will help them increase their reach. The Group decided to relocate to their new facility near Warsaw to improve their operational capacity and to enjoy a higher quality standard. Through negotiations we managed to obtain a very advantageous offer for the facility, which is 20% larger than the Group's previous scheme," says Katarzyna Bojanowicz, Business Development Director, Industrial and Warehouse Department, Cresa Poland.
Source: Cresa