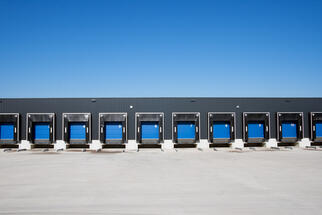 Advisory firm JLL summarizes the situation on Poland's industrial market at the end of Q3 2019.
Demand – tenants still in shape
The industrial market in Poland is certainly on a roll. Space leased in the Q1–Q3 period totalled 2.5 million sqm, with two thirds of the total comprising new deals and tenant expansions.
"The market is most likely to once again cross the three million sqm leased mark for the year. This performance matches the three previous years. However, the growth noted over recent quarters is more sustainable, as the numbers are no longer driven by such massive deals as those from 2016 – 2018. In addition, the number of medium scale transactions has been constantly increasing. What is more, we can observe an increasing number of renewals. The total amount of renegotiated space after Q3 2019 was very close to the totals seen at the year-ends of 2016, 2017 and 2018, with 2019 coming in with over 855,000 sqm", comments Tomasz Mika, Head of Industrial Poland, JLL.
The vast majority (92%) of renewals were, unsurprisingly, found in the country's five largest markets - Upper Silesia, Central Poland, Poznań, Warsaw and Wrocław. New demand was also driven mainly by the Big Five (80%). However, other less obvious locations have also made their mark on Poland's industrial map.
"Q1–Q3 leasing activity picked up in Białystok, Częstochowa, Kielce, Kutno, Lublin, Opole and Tczew, which together accounted for 112,000 sqm of leased space. These and similar locations all over Poland, which offer developed infrastructure and favourable labour markets are very likely to attract even higher levels of tenant activity in the longer term", adds Maciej Kotowski, Research Analyst, JLL.
Accounting for nearly 50% of total net take-up since the beginning of the year, logistics operators are leaders among the sectors active on the market. The first three quarters of 2019 also saw impressive activity from the light manufacturing and automotive sectors: the total floor space leased by these two sectors accounted for over a fifth of net take-up. Industrial production in Poland, however, has recently been experiencing a downward trend, which may result in some future headwinds for these two sectors. The coming months will show if it has had any impact on the leasing market, which is driven by a much wider group of tenants.
Supply – nearly 18 million sqm
"New completions in Q3 totalled 880,000 sqm, the highest figure seen in a single quarter in the history of the Polish market. This resulted in the first nine months of 2019 seeing more than two million sqm of new space and almost 18 million sqm of total stock", comments Tomasz Mika.
The hot spot on the map, with more than 440,000 sqm being delivered to market, was Upper Silesia. Also worth noting is the fact that more than 100,000 sqm of new space was delivered in each of the following markets: Central Poland, Kraków, Olsztyn, Szczecin, the Tri-City, Warsaw and Wrocław.
The pipeline of under-construction projects shows no sign that developers are slowing their robust pace: at the end of September nearly 2 million sqm of space was at various stages of development. More than 80% of that space was being constructed in the Big Five. What is worth underlining, almost 56% of the pipeline in Poland was unsecured. This translates into more than one million sqm of speculative space being built. How will this increased appetite for risk observed among developers affect the vacancy rates depends on how much space will be leased during the construction period.
Vacancy rate and rents
The relatively high level of speculative development observed in recent quarters has already led to a slight increase in vacancy rates across the country. This was mostly seen in the smaller markets with limited supply, where even a single speculative completion can affect the rate significantly. Looking at the major markets, the average rate for the Big Five increased in Q3 by a mere 0.4 p.p. At the end of September, the vacancy rate for Poland as a whole was 7%.
Increases in rent growth are still somewhat mitigated by the booming development market and the high share of speculative developments. During Q3 2019, rents remained quite stable, with upward movement noted only in selected high-class city logistics developments. Warsaw Inner City is still the most expensive market in Poland, with headline rents ranging from €4.3 to €5.2 /sqm /month. The most attractive rents for big-box units are still to be found in out-of-town locations in Central Poland (€2.6 to €3.2 / sqm / month).
Source: JLL