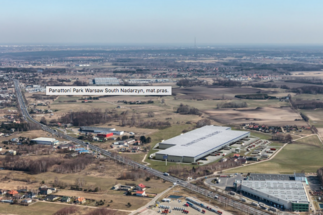 The Warsaw region, with a population of 5.6 million, enjoys constant popularity. It is the largest commercial real estate market in Central and Eastern Europe and as much as a quarter of all Polish logistics resources are located here. At the end of September this year. the supply of warehouse space in the capital region exceeded 4.7 million sq m (20 million sq m in Poland). On the other hand, 321,000 sq m was under construction. This was largely due to Panattoni, which already has 777,000 sq m of space in the entire Warsaw region and another 55,000 sq m under construction.
The main reason for the attractiveness of the Warsaw region is its central location in the country and the well-developed road network that connects the capital not only with other agglomerations in Poland, but also with the whole of Europe. The latest Panattoni investment will be located right next to the S8 route, which runs from Białystok via Warsaw to Wrocław, and ultimately Kłodzko and the Czech border. At the same time, the S8 route on the section Warsaw - Ostrów Mazowiecka is part of the Polish section of "Via Baltica", which is to connect the Baltic states with the rest of Europe. It is also close from here to the A2 motorway running from the Polish-German border towards Belarus.
- Thanks to such a perfectly developed road infrastructure, the investment is only an hour away from Łódź, Poznań and Silesia - 2.5 hours, and Wrocław, Kraków and the Tri-City - 3 hours away. Thus, the most important and largest Polish metropolises and economic centers are within just a few hours' drive. Additionally, there are two international airports nearby: Warsaw Chopin (20 minutes) and Warsaw Modlin (45 minutes). You can reach the center of the capital in 20 minutes. " - explains Marek Dobrzycki, Managing Director Panattoni.
Greenberg Traurig advised Panattoni Development Europe on the acquisition of real estate near Nadarzyn.
A modern warehouse building with an area of ​​53,650 sq m will be built as part of Panattoni Park Warsaw South, of which offices will occupy 600 sq m. The facility will be certified in the BREEAM system at the "Very Good" level.