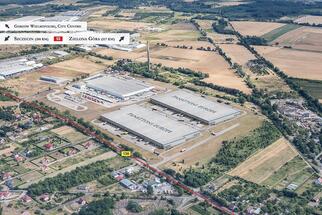 Panattoni Europe bets on S3. The developer is increasing the number of projects in Western Poland along the S3 expressway. Following the successful investments in Legnica, Zielona Góra, Świebodzin and Polkowice, it is time for another development in Gorzów Wielkopolski. This time, it is going to be a proprietary multi-tenant distribution centre Panattoni Park Gorzów Wielkopolski totalling in excess of 69,000 sqm in two buildings, of approx. 37,700 sqm and 31,600 sqm respectively. The site is 7 km from the city centre, in the vicinity of the S3 leading from Szczecin to the A2 motorway. Commencement of construction works is scheduled for August 2019.
"Panattoni Park Gorzów Wielkopolski boasts one of the more interesting locations of the warehousing map of Poland, because of the region it finds itself in" – comments Dorota Jagodzińska, Managing Director at Panattoni Europe, adding: "The west of Poland and the Lubuskie voivodeship, right next to the German border, enjoy the keen interest of our neighbours as a location for investments expanding their own businesses. Moreover, there is the road infrastructure and the S3, a road of great opportunity. Also, one should not disregard the enormous potential offered by the economic zones and industrial parks around the voivodeship. All these factors contribute to the fact that many international companies, including German, Scandinavian and Dutch businesses, look to this market as an investment destination."
Panattoni Park Gorzów Wielkopolski is not the first investment to be delivered by the developer in the region. The developer's other projects in Lubuskie are primarily manufacturing facilities, for the most part dedicated to the automotive industry and clustered along the S3 expressway. They include: the 17,600-square-metre factory in Gorzów Wielkopolski for Faurecia – a manufacturer of car interior components; 10,700 sqm in a manufacturing facility making economy-class aircraft seats for Recaro Aircraft Seating in Świebodzin; 10,800 sqm in a modern repair centre for electronic products and refilling printer cartridges for Syncreon in Żary, and the 19,645-square-metre production facility in Zielona Góra for Ideal Automotive ─ manufacturer of car interior parts and components. Moreover, modern distribution centres Panattoni Park Zielona Góra I and II will also be built in the region.
Source: Panattoni