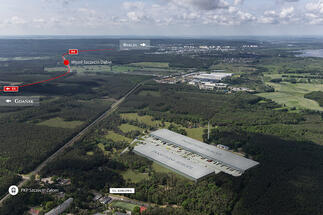 Panattoni Europe poszerza portfolio najemców w Panattoni Park Szczecin. Do ich grona dołączył czołowy dostawca sprzętu wędkarskiego w Europie - firma Svendsen Sport . Jej oferta obejmuje uznane w świecie wędkarskim silniki zaburtowe, kompletne ekwipunki, najwyższej jakości ubrania, a także wszelkiego rodzaju akcesoria. W szczecińskim kompleksie dewelopera firma zajmie łącznie 8 300 m 2, z czego powierzchnia magazynowa wyniesie 8 103 m 2, a biurowa 173 m 2. Kolejnym najemcą został dystrybutor produktów spożywczych na polskim rynku - wielokrotnie nagradzana spółka Marol. Firma wynajęła łącznie ok. 3 300 m 2 - na magazyn przeznaczono 3 051 m 2, zaś na powierzchnię biurową ok. 240 m 2. W obu transakcjach najmu pośredniczyła międzynarodowa firma doradcza Colliers International.

"Transakcje ze Svendsen Sport oraz spółką Marol to kolejny dowód na zainteresowanie najmem powierzchni magazynowo-produkcyjnej w okolicach Szczecina - w IV kwartale ubiegłego roku informowaliśmy o kontrakcie z Pierce AB. Bliskość tego regionu Polski do Niemiec i północnych sąsiadów, a także funkcjonująca krajowa sieć nowoczesnych dróg to atuty, które dostrzegają firmy działające lokalnie oraz podmioty zagraniczne, zwłaszcza te związane ze sprzedażą internetową" skomentował Robert Dobrzycki, Chief Executive Officer Europe.

Panattoni Park Szczecin to nowoczesne centrum dystrybucyjne dewelopera o planowanej powierzchni ok. 51 600 m² w ramach dwóch budynków z możliwością rozbudowy. Każdy z obiektów wyposażony zostanie w doki rozładunkowe, bramy wjazdowe z poziomu "0", a także obszerne place manewrowe i dodatkowe miejsca parkingowe. Natomiast strategiczne położenie centrum - tuż przy węźle Szczecin Dąbie, zaledwie 1 km od autostrady A6 wiodącej do Berlina oraz bliskość drogi S3, a także bezpośrednie sąsiedztwo Specjalnej Strefy Ekonomicznej i niedaleka odległość od stacji kolejowej, zapewni doskonałą bazę logistyczną i produkcyjną dla najemców.