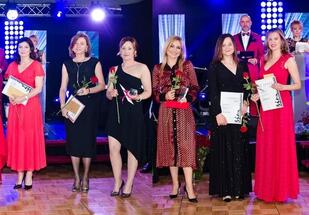 The power of women at Panattoni Europe! The industrial real estate leader employs 250 people in Poland, and half of them are women – experts in their respective fields and charismatic personalities. Two of them have won the eponymous title of Top Woman in Real Estate 2019 – Marzena Tkaczuk in Commercial Sales category and Anita Pietrykowska in Marketing and PR. The Top Woman in Real Estate competition is an annual initiative which gives women in real estate an opportunity to inspire and support one another. There are 15 award categories, and the final shortlist includes as many as 75 female nominees who not only compete but also support each other. The awards are presented in recognition of remarkable business achievements, which put their businesses in a stronger market position, for outstanding management practice, and above-average performance in their respective fields, as well as for being open to new solutions and brave in implementing them. The statuettes were presented during the Awards Gala which took place on 24 May 2019 at the Marriott Warsaw Hotel.
Robert Dobrzycki, Chief Executive Officer Europe, Panattoni Europe, proudly comments on the awards: "Both Marzena and Anita are genuine Top Women. Each one is remarkably effective. Their results-orientation and openness to new challenges go hand in hand with empathy and daily support for their colleagues" and adds: "Marzena, Anita! Your contribution to the growth of Panattoni Europe has been invaluable and I am grateful to you for this wonderful adventure!".
Top Woman Commercial Sales – Marzena Tkaczuk, Head of BTS Business Development Panattoni Europe.Marzena has been in the real estate business for 13 years, with the last 5 at Panattoni Europe. She is responsible for developing build-to-suit projects, tailored to the customers' individual requirements. In her time at Panattoni Europe, she has been involved in delivering contracts totalling close to 450,000 sqm, accounting for 50% of the total space delivered by the BTS department at Panattoni Europe. Last year alone, she took part in transactions adding up to more than 85,000 sqm, including: 27,400 sqm for Ideal in Świdnica, 18,400 sqm for K-Flex in Uniejów (third joint project in a row) and 10,000 sqm for Intersnack in Nysa. These and many other projects executed with Marzena's participation are market leading developments, winning awards in numerous industry competitions in recent years, e.g. Manufacturing Awards, Eurobuild Awards, CEE Investments Awards.
Top Woman Marketing and PR – Anita Pietrykowska, Marketing & Communications Director Europe, Panattoni Europe. She has a track record of 14 years in the industrial property sector, and has been working at Panattoni Europe for 10. She is responsible for a wide range of the company's marketing and PR activities across four countries: the Czech Republic, Germany, Poland and now also the UK, where she prepared the annual interim rebranding for First Panattoni. She is the creator of many innovative marketing campaigns, as well as the developer's annual proprietary event, Panattoni Gala & Party and each Panattoni appearance at MIPIM and EXPO REAL. Anita Pietrykowska also created the brands for City Logistics Parks and Central European Logistics Hub, leading the press and online advertising campaigns, and her PR campaign promoting emerging markets resulted in nearly 3,000 publications on the radio and TV, press, online and social media. She has won four Best Marketing Campaign awards at the Construction Investment Journal Awards Poland.
Panattoni Europe is part of the Panattoni Development Company, one of the largest industrial developers in the world, with 26 offices in North America and Europe. Panattoni has been present in Central Europe since 2005. To date, the developer has delivered 7.5 million sqm of modern industrial space altogether in Poland, the Czech Republic and Germany. A dedicated department responding to individual tenants' needs – build-to-suit projects – is also located within the Panattoni Europe structure. Among key tenants are companies such as Amazon, Arvato Services Polska, Coty Cosmetics, DSV, H&M, Intermarché, Leroy Merlin, ND Logistics, Still, Schenker, Selgros and Tesco. Apart from Poland, Panattoni Europe has offices in the United Kingdom, the Czech Republic, Luxembourg and Germany.
Source: Panattoni