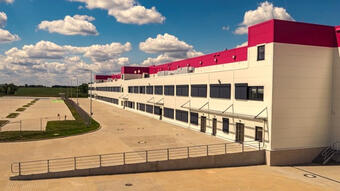 The Panattoni project for KION Group was kicked off last year and has taken less than 10 months to complete. KION Group is one of the largest providers of solutions optimising material and information flow in manufacturing plants, warehouses and distribution centres. The corporation, included in Germany's MDAX index, is also the largest manufacturer of industrial trucks in Europe and the second-largest in the world, as well as a leading provider of automation technology.
The Kołbaskowo project provided for the construction of a facility in excess of 44,000 sqm. The ultra-modern building – apart from manufacturing space – also houses a research and development centre and the administration office. Ultimately, 150 people will be employed here and production will be fully operational by spring 2021.
Last year alone, KION reduced its greenhouse gas emissions by six percent. Sustainability also characterizes the Group's product portfolio. Around 85 percent of KION's industrial trucks are already powered electrically. "Additionally, the project was developed in line with the criteria of BREEAM Very Good certification, which guarantees compliance with the principles of sustainable development," Katarzyna Kujawiak, Development Director Panattoni adds.
The project for KION Group was delivered by Panattoni in Kołbaskowo, in the vicinity of the A6 route, 2 km from the German border. The site is less than two hours' drive from Berlin and its airports. It takes only 40 minutes to get to the Szczecin airport, and twice as much to the Szczecin-Świnoujście seaport. Furthermore, the nearby S3 expressway, once completed, will connect Western Pomerania with Poznań, Wrocław and Prague.
Source: property-forum