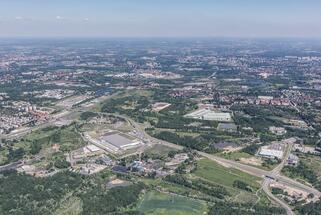 A rock-solid purchase. Panattoni Europe has recognised the potential of Silesia for years, developing industrial facilities in Gliwice, Sosnowiec, Katowice, Mysłowice, Bielsko-Biała, Czeladź, and now another one in Ruda Śląska. The developer has just bought a 12-hectare site to build a distribution centre, Panattoni Park Ruda Śląska II. The 55,200-square-metre complex will comprise two class A facilities. With flexible unit layout options, the space in the buildings will be suitable for warehousing, sorting and packaging or light manufacturing purposes. The park will be built within administrative city limits, just 2 km from DTŚ (Silesian Intercity Road), and will meet the BREEAM certification criteria. Commencement of construction works has been scheduled for the beginning of 2020.
Marek Dobrzycki, Managing Director w Panattoni Europe comments on the decision to expand the Ruda Śląska facility: "Upper Silesia with the largest urban complex in Poland is one of the top locations, not only in the context of business in Poland, but also on a trans-European scale. This region has access to very good transport infrastructure – with a dense network of national roads and motorways, as well as railways. Other advantages of the region include access to a well-qualified workforce, reasonable land prices and availability of sites. Panattoni's expansion in Silesia is quite natural, and the choice of Ruda Śląska combines a very good location with business potential – in a Forbes ranking, Ruda Śląska came 9th among municipalities with populations in the range of 50,000-149,000 in terms of a business-friendly climate."
Panattoni Park Ruda Śląska II is situated within administrative city limits, at ul. Hallera – 2 km from the DTŚ route – which connects Katowice with the A1 motorway – and a short distance from the A4 motorway. The park is less than an hour's drive from the Czech border, which is an unquestionable advantage for potential tenants. Such an excellent location of the new project, combined with well-developed Upper Silesian infrastructure and public transport network, is bound to attract well-qualified staff.
Source: Panattoni