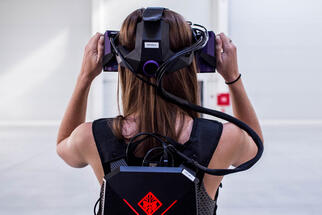 From the outside, the new building looks no different from any other at P3's Prague Horní Počernice park. Concealed within, however, is something unique: a warehouse that doubles as a bank. Or a car. Or the surface of Mars.

Welcome to the largest B2B Virtual Reality laboratory in Europe.
VIRTUAL IN REALITY?
Our reporters spent a day at the Virtuplex lab, together with P3 leadership, Virtuplex co-owners Martin Petrovický and Pavel Novak, and other VIPs, and got a chance to try this breathtaking technology first-hand.

"You can remove your glasses or put the headset over them, it's up to you," says Martin, handing me a sleek black module that looks like a prop straight out of Star Wars. It's quite heavy, but thanks to a fixing mechanism like the one on bike helmets, I can attach the whole thing firmly to my head with no discomfort. He helps me put on a backpack, housing the brain of the whole operation — a powerful personal computer. After a few quick adjustments, a crystal-clear image appears... and off I go.
It's only been a few weeks since the Virtuplex laboratory opened its physical and virtual doors to the world. The laboratory, powered by digital megafirm Etnetera Group, chose to set up shop in P3 Prague Horní Počernice thanks to its strategic location on the outskirts of the Czech capital, nearby major commerce, automotive and manufacturing hubs. Virtuplex were also after space. Lots of it. Our Class-A warehouses provide a perfect backdrop for the creation of just about any sort of virtual experience.
First off, I transport into a Škoda showroom. There are a few couches and desks scattered around and, as you'd expect, a fleet of top-of-the-range Škoda cars. My colleague has joined the experience and I can see an avatar with her name floating above it. As I wave, I see an outline of my own hand in front of me; a ghostly, though very cool, effect. I approach the nearest car, a black Škoda Kodiaq. Can I open the door? "Not yet, but we're working on implementing this feature. But you can simply put your head inside," says Petrovický.
I bend forward and lean into the car's cockpit. I can see the dashboard, seats, pedals, and steering wheel in high-definition; everything you'd expect from a real car, expect that this one exists only as lines of code which, Martin assures me, can be manipulated and updated at the touch of a button depending on the customer's wishes. Standing back, I feel an overwhelming urge to do something I probably shouldn't. I approach the car slowly and, despite my senses screaming "stop," I step up to the car, and then through it. The feeling is other-worldly. My chest intersects with the car roof and, when I crouch down, I sink through the roof and get the feeling that I'm sitting directly within the car, gazing out at the virtual showroom around me. It's fun. It strange. It's wonderfully addictive. I'll be back!

THE COMMERCIAL BIT
Companies can now lease space at the Virtuplex VR laboratory to develop products or, for example, work on the layout and design of physical spaces.

The laboratory works along similar lines to a film studio, where you can hire the setup and crew you need. "The company first prepares the content—i.e., the design of the environment that it wants to test—and sends it to the laboratory, where professionals modify it for the relevant systems," Pavel Novák explains.
"Most clients come to us with 3D data of their new space, which is usually provided by the architect," adds Petrovický, who is also Virtuplex's CEO. "We take this data and only adjust it a little; we can also provide the architect with assistance during the design phase so that the output is as usable as possible in 3D. Also, if the client wishes to use some objects that don't already exist in 3D, we can design them. Common furnishings, flowerpots and paintings are available in model banks at moderate prices.

And how long does the entire process take? Every contract is different, depending on the size of the building, but "if you're looking at the space itself, and not materials or colours, it takes a few hours," says Martin. "If you're after a realistic visualisation, it can be a day or two."

Another advantage is that people meeting in VR don't need to physically be in one place. "You can have a couple of colleagues here in the hall, a few others in Japan and the boss in New York. Everybody can see and hear one another, and they can interact in the same virtual environment," Petrovický explains.
Source: P3 Parks