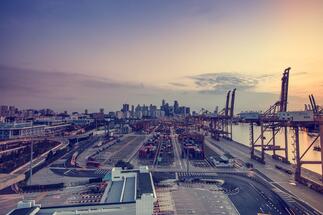 Statek Mount Hope, zwodowany w 2014 roku, to masowiec o całkowitej nośności 28 180 ton. Do Gdyni przypłynął z niemal 25,7 tys. ton wysokiej jakości mocznika granulowanego z portu Arziw w Algierii. W Gdyni przy Nabrzeżu Rumuńskim dokonany zostanie przeładunek ponad 10 tys. ton mocznika granulowanego. Większość ładunku zostanie przepakowana w 500-kilogramowe tzw. "big bagi". Następnie statek uda się do portu Szczecin.
Obsługa największego od lat statku z mocznikiem granulowanym w OT Port Gdynia to kolejny krok w kierunku umacniania przez Grupę OT Logistics pozycji w zakresie obsługi transportu nawozów. Poprzez wzmacnianie kompetencji i możliwości przewozowych, Grupa OT Logistics konsekwentnie buduje pozycję lidera w zakresie transportu nawozów i produktów agro.
- Jesteśmy dumni, że zaufała nam tak renomowana firma jak Polish Agro, powierzając nam rozładunek i magazynowanie towaru o tak znacznej wartości oraz o bardzo dużym znaczeniu handlowym dla swojej sieci sprzedaży. To dowód na to, że Grupa Kapitałowa OT Logistics właściwie analizuje rynek i jego perspektywy rozwoju w segmencie chemii i nawozów. To kolejny etap budowania przez nas pozycji lidera obsługi tych ładunków w Polsce i w regionie. Sukcesywnie rozwijamy wachlarz dostępnych usług, budujemy szeroką bazę wiedzy o produktach i wymaganiach klientów, wzbogacamy się o kolejne doświadczenia, w tym wyzwania tak ambitne jak obsługa największego statku z mocznikiem w ciągu ostatnich kilku lat. – powiedział Andrzej Staliński, Dyrektor Segmentu Agro w OT Logistics S.A.
Przeładowany mocznik granulowany sukcesywnie trafia do krajowej sieci dystrybucyjnej Polish Agro.
Zespół pracowników OT Port Gdynia prowadzi od 29 stycznia zintensyfikowany proces rozładunku i pakowania towaru do "big bagów", tak aby rozładunek postępował zgodnie z ustalonym harmonogramem pomimo niesprzyjających warunków pogodowych w postaci silnych i porywistych wiatrów oraz niskich temperatur, szczególnie w pierwszym tygodniu obsługi statku.
Polish Agro to doświadczony i stabilny partner dla odbiorców środków do produkcji rolnej, który skutecznie doradza rolnikom, gwarantuje bardzo wysokiej jakości produkty, szeroko i elastycznie dostępne dzięki rozwiniętej logistyce. Tę logistykę wewnętrzną wspierają sprawdzeni i mocni partnerzy tacy jak Grupa Kapitałowa OT Logistics.
- Powierzyliśmy obsługę tak dużego statku profesjonalistom z OT Logistics na terminalu w Gdyni. Nasz mocznik granulowany to towar klasy premium, który musi zostać dostarczony do naszych klientów z zachowaniem najwyższych standardów bezpieczeństwa w celu zapewnienia jakości samego produktu oraz gwarancji zachowania wysokiego standardu obsługi klienta. Nie mieliśmy wątpliwości, że takiego
zadania może podjąć się właśnie ten operator logistyczny, z którym sukcesywnie rozwijamy współpracę. Jestem pewien, że nasi klienci już wkrótce docenią starania Polish Agro w zakresie wysokiej jakości towarów oraz skuteczną logistykę magazynowania i dystrybucji zapewnianą przez Grupę Kapitałową OT Logistics. Takiego rozwiązania mogą nam pozazdrościć nasi konkurenci. - powiedział Mathias Eisert, Prezes Zarządu Polish Agro Sp. z o.o.
***
Informacje na temat OT Logistics:
OT Logistics S.A. to polska firma z ponad 70-letnim doświadczeniem. Wraz ze spółkami tworzącymi Grupę Kapitałową OT Logistics jest największym operatorem portowym w Polsce i na południowym Bałtyku oraz liderem w transporcie wodnym śródlądowym, od Kaliningradu w Rosji po porty w Niemczech i Holandii. Grupa skupia również podmioty wyspecjalizowane w transporcie drogowym, kolejowym, a także spedycji i logistyce. OT Logistics jest również największym branżowym udziałowcem portu morskiego Luka Rijeka w Chorwacji. W 2016 r. Grupa wypracowała 712,1 mln zł skonsolidowanych przychodów ze sprzedaży, a jej zysk netto wyniósł 10,0 mln zł. Akcje OT Logistics od 2013 r. są notowane na Giełdzie Papierów Wartościowych w Warszawie.
Informacje na temat Polish Agro:
Polish Agro Sp. z o.o. jest częścią silnej europejskiej Grupy Kapitałowej DaVa Agravis International Holding, zrzeszającej około 70 firm działających w szeroko pojętej branży rolno-spożywczej w 14 krajach.
Spółka zajmuję się sprzedażą środków do produkcji rolnej: nawozy mineralne, nawozy dolistne, środki ochrony roślin, kwalifikowany materiał siewny. Firma prowadzi również handel zbożami i roślinami oleistymi.
Source: OT Logistics Group