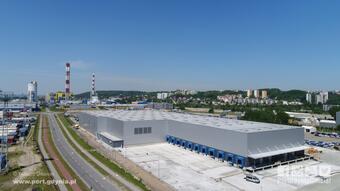 A modern high bay warehouse no. 1, newly built at a good pace, is the first element of the Logistics Center in the West Port of Gdynia. It is one of four of this type planned warehouses in this region of the Port of Gdynia. As part of the investment, with a gross value of PLN 53 million, the warehouse an area of ​​approximately 11,000 sq m is built along with technical and road infrastructure.
It is 10,5 m high and is designed for storing highly processed groupage goods in packaging. The logistics services provided there will include storage, reception, picking, packaging and dispatching of stocks in the cross-docking system.The building is divided into four storage compartments. It is adapted to the dimensions of the pallet frame racks and the width of a work aisle for transportable equipment – fork- lift trucks with retractable masts.
The roof structure of the building has been additionally strengthened over the whole surface of the photovoltaic installation. However, the technical part is located outside the warehouse space in the form of a single-storey building with an independent access. The new warehouse will be fully monitored, inside and outside.
Efficient and effective construction works indicate finishing constructions by the end of September 2019. At the moment, the investment is carried out in 85%. All construction works have been completed, installation and finishing works as well as assembly of windows and doors are almost finished. The construction of concrete surface of maneuvering yards as well as network works, storm water and sanitary sewage system as well as power grid are also in progress.
- Construction of the warehouse on the Logistyczna atreet is the next step to creating a new quality of provided services at the Port of Gdynia Logistics Center - emphasizes Grzegorz Dyrmo, Vice President of the Managing Board Port of Gdynia Authorities S.Aa - such investments will make Port of Gdynia a great logistic partner for contractors from Poland as well and from all over Europe in the 21st century. There will also be a significant increase in the storage space at the Port of Gdynia - now our resources total over 190,000 square metres.
Source: Port Gdynia