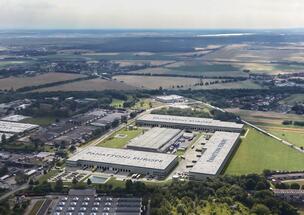 Panattoni Park Zabrze – a mine of opportunities! Panattoni Europe expands its portfolio of distribution centres in Upper Silesia. It is the first time the developer decided to build in Zabrze, a city in the western part of the Silesian voivodeship and the Upper Silesian Industrial Region (GOP). Zabrze is one of the five largest population centres in the Silesian voivodeship and additionally borders on Bytom with its unsaturated job market. And it is here that the developer has launched its new distribution centre, Panattoni Park Zabrze with planned space of 64,200 sqm. The construction of 20,000 sqm is already under way, and the first tenants of the centre are: a beer producer set to lease 5,400 sqm and Ban-Food – a catering logistics operator, taking up 2,200 sqm. Phase one of the construction will be completed by autumn 2019.
Marek Dobrzycki, Managing Director Panattoni Europe, comments on the commencement of construction works at Panattoni Park Zabrze: "Zabrze, with the other cities of the Upper Silesian Metropolitan Area, is one of the largest industrial centres of the country, home to businesses from the automotive, energy, food and technology sectors. Its industrial character is changing in keeping with the development of modern technologies. Enterprise is on the rise, finding the right conditions to thrive in Zabrze with its highly qualified technical staff, competitive workforce, appropriate road, and now also technical infrastructure". He then adds "Panattoni Park Zabrze is our first investment in this location and a natural addition to the Panattoni portfolio in Upper Silesia".
A brownfield project. Panattoni Park Zabrze is located in an area with an industrial history, with at least 100 different businesses in the immediate neighbourhood. To create a modern distribution centre, Panattoni Europe took on the job of rehabilitating the site, including land remediation, so as to be able to deliver a facility with enhanced environmental performance. The park will feature many energy-saving and environment-friendly solutions, required to obtain BREEAM certification.
Panattoni Park Zabrze is a modern logistics centre comprising three buildings in an area between the junctions "Zabrze Północ" and "Zabrze Zachód", not far from national roads number 78, 88 and 94, and 7 km from the Zabrze city centre. Notably, the park is a short distance from the Katowice Special Economic Zone, the best economic zone in Europe in 2015-2017 according to FDI Business Financial Times. Such a location makes for attractive connections with the cities of Southern Poland, as well as the Czech Republic and Germany. The space of the halls is intended primarily for logistics and distribution operations, and because of the design flexibility, the units can be adapted to the needs of light manufacturing.
Source: Panattoni