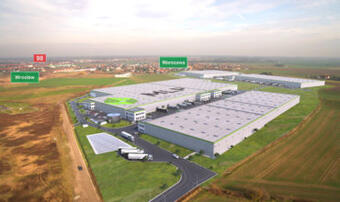 The MLP Group is stepping up its expansion abroad and consolidating its position in Poland. New projects are under way and in the pipeline in Germany and Romania. The most recent venture involves entering the Austrian market and constructing a logistics park near Vienna. The developer of modern warehouse space is also heavily investing in Poland, where multiple new projects are in development.
To pursue its growth plans, the MLP Group has issued five-year bonds with a total issue price of EUR 30m (approximately PLN 130m) as part of a public offering. The bonds pay variable interest at 6M EURIBOR plus margin. As of February 26th, the bonds will be introduced to trading on the Catalyst market (MTF).
'We will apply the proceeds towards further expansion of our modern warehouse space offering both in Poland and abroad. Our plans include purchasing investment land and financing the construction of logistics parks. A few new sites are in the pipeline, including near Wrocław, Łódź and also in Germany and Austria. By carrying out new projects, we capitalise on the boom in the warehouse sector. New warehouse space continues to be in great demand, which allows us to quickly scale up our operations,' said Monika Dobosz, Chief Financial Officer of MLP Group S.A.
The MLP Group currently runs nine operational logistics parks located in Poland: MLP Pruszków I, MLP Pruszków II, MLP Poznań, MLP Lublin, MLP Teresin, MLP Wrocław, MLP Gliwice, MLP Czeladź and MLP Poznań West. In Germany, the Group currently operates three logistics parks: MLP Unna, MLP Business Park Berlin I and MLP Business Park Niederrhein. It is also developing a new logistics park in Romania called MLP Bucharest West. Furthermore, the Group holds plots of land and reservation agreements to acquire more land for future logistics parks. This means that MLP Group's portfolio of active and prospective managed properties consists of a total of seventeen operational logistics parks located in Europe in the three markets it serves.
Source: MLP Group