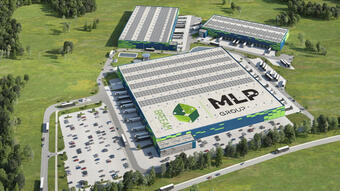 MLP Group continues to expand the portfolio of logistics parks under its management. Another addition to its offering of warehouse space in the Polish market will be MLP Zgorzelec. The project will be carried out taking into account the ESG principles. Photovoltaic systems will be installed on roofs.
"We are starting a project to develop a new logistics centre in south-western Poland, near the border with Germany and the Czech Republic. In line with our strategy, all of our newly built facilities, including the ones in Zgorzelec, will undergo BREEAM certification to confirm that we follow international standards in environmental sustainability. We thus offer modern high-quality warehouse space, fully tailored to the individual needs of our tenants. All our efforts are directed towards achieving climate neutrality by 2026," said Agnieszka Góźdź, Member of the Management Board, Chief Development Officer at MLP Group S.A.
MLP Zgorzelec is a new logistics park in the MLP Group portfolio. Sited on a land plot of 11.8 ha, the project will ultimately deliver three facilities with a total area of approximately 50 thousand sqm. The buildings will undergo BREEAM certification of 'Excellent'. MLP Zgorzelec stands out for its good location, providing direct access to international markets. Its distance to the border crossing with Germany is only about 8 km. Moreover, the park is located only 6 km away from the A4 motorway and 4 km off the Zgorzelec city centre.
Source:property-forum.eu