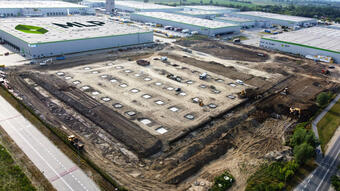 June this year saw the start of construction of a new warehouse at MLP Pruszków II. Earth and foundation works are currently underway. The facility, including office and staff amenity space, will have a target space of 33,000 sqm. The project is being developed on a speculative basis, i.e., without signed leases. The work is scheduled for completion in February 2024. Pekabex is responsible for developing the project. This is the 11th contract and the 10th facility built by this general contractor for MLP Group at the Pruszków logistics center.
"With the limited supply of new warehouse space in the Polish market, we see plenty of room for our continued rapid growth. We are well prepared for this having secured financing for the investment projects we are launching. Speculative construction offers higher project profitability. At the same time, we are confident that we will largely, if not entirely, commercialize the new facility even before it is put into operation. We are very satisfied with our cooperation with Pekabex to date. That is why we have once again engaged it to carry out a project," emphasized Agnieszka Góźdź, Member of the Management Board, Chief Development Officer, MLP Group S.A.
MLP Group is placing a strong focus on sustainability as part of its warehouse portfolio expansion. The roof of the facility under construction will be adapted for the installation of PV panels. At the same time, the general contractor has undertaken to achieve a BREEAM New Construction certification of 'Excellent'. In line with the Company's standard practice, environmental sustainability certification is obligatory for all its new projects.
MLP Pruszków II is a modern logistics center located in the municipality of Brwinów near Warsaw, five kilometers from Pruszków. With a target leasable space of 420,000 sqm, it is the region's largest logistics complex. All new buildings have been awarded the prestigious BREEAM certification. In line with MLP Group's ESG strategy, solar PV systems are mounted on rooftops. MLP Pruszków II has well-developed transport links with central Warsaw as well as the main arteries connecting the capital with other cities.
source:europaproperty.com