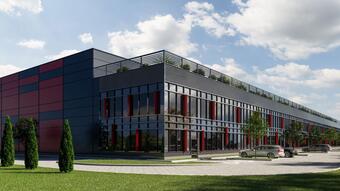 MDH, a subsidiary of the Meyra Group, produces and sells orthotic supplies for people with movement disorders. It will soon open a 10,000 sqm distribution centre in this location, which will also be used for the production of orthopaedic and preventive products for all customers of the group. The company currently exports its products to more than 80 countries worldwide. During the lease process MDH was supported by Axi Immo.
Vesbo Poland, a distributor of sanitary installations and water filters, will occupy 5,000 sqm in the park from October.
7R Park Łódź West II is situated on a brownfield site at ul. Maratonska 96 on the western outskirts of the city. It will comprise two warehouse buildings totalling 52,000 sqm, the first of which, with 18,000 sqm gla, is to be completed this month. The general contractor for the project is Commercecon, which is working on its third project with developer 7R in the city. Kwadrat studio is responsible for the architectural design of the warehouse park. All the buildings are to be BREEAM certified.