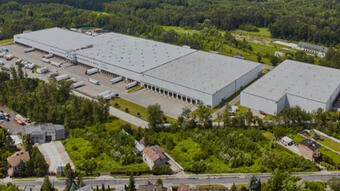 Martex, a company founded in 1992, is the only truck parts distributor in Poland and a shareholder in the international purchasing group TEMOT INTERNATIONAL (a global network of Spare Parts Distributors operating in the Automotive Aftermarket). Headquartered in Upper Silesia, Martex has 42 sales branches throughout Poland. By moving to Będzin, Martex will be able to consolidate its logistics operations into one central warehouse, which will enable faster response to customer orders.
Andrzej Parzoch, vice president of Martex, said:
- We were looking for an ideal location and found it in Logicor Będzin - a stand-alone property surrounded by a large plot of land, with great potential for parking and warehouse space. And most importantly - close to our current location, which means we can keep our current employees.
Piotr Brycki, Senior Asset Manager at Logicor, said:
- We work closely with our customers and tailor our assets to their requirements. Specifically for Martex, we upgraded the sprinkler, ventilation and air conditioning systems. We also modernized the office space and introduced modern fire protection systems.
Logicor Będzin is located in the Upper Silesian Industrial District, 13 km from Katowice, near the border with Sosnowiec. The park has an excellent connection to the S86 expressway (Katowice-Sosnowiec), which connects to the
A4 motorway/European route E40 (Wrocław-Katowice-Kraków). It is 30 km away from the Katowice-Pyrzowice International Airport.