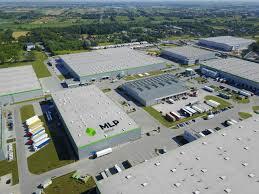 Lindab Sp. z o.o., a member of the Swedish-basedLindab Group, signed a contract with MLP Group to lease over 4,200 square metres of state-of-the-art space at the MLP Pruszków II logistics park. More than 4,000 square metres will be used for warehousing purposes and the remaining 200 square metres will be staff amenity and office space fitted out to optimally meet customer needs. The finished space is scheduled to be delivered in the second quarter of 2020.
A team of experts of JARTOM Real Estate acted as an intermediary in the transaction. JARTOM Real Estate is a Polish consultancy firm specialising in warehouse and production space for 28 years and a regular associate of both MLP Group and Lindab."We specialise in large contracts on the warehousing market that require expertise and experience." stresses Kamila Branecka, Head of Sales and Rental at JARTOM Real Estate.
Lindab isan international group that develops, manufactures, markets and distributes products and systems for the HVAC and construction industries. Lindab's products stand out for the premium quality of raw materials, stylish design, easy installation and use ofcutting edgetechnologies.(www.lindab-polska.pl)"The convenient location of our logistics centre and flexibility in adapting the warehouses to meet customer requirements are the reasons why MLP Pruszków II is a logistics park of choice for business operators,"notes Tomasz Pietrzak, Senior Leasing Manager at MLP Group S.A.MLP Pruszków II is a logistics centre located in the municipality of Brwinów near Warsaw, five kilometres from Pruszków.
MLP Pruszków II has well-developed transport links with central Warsaw as wellas the main arteries connecting the capital with other strategic cities. The park is located between local road No. 760 and the A2 motorway, three kilometres from the junction in the Pruszków-Żbików area. It is the largest logistics hub in the region, with a target leasable area of 292,000 square metres, of which more than half are buildings already placed in service, with more warehouses with a total area of approximately 40,000 square metres in a pre-construction or construction phase. The logistics parkhas strong potential for expansion and is very attractive for customers thanks to its excellent location and infrastructure. In addition, MLP Pruszków II has a self-serve Nextbike bike rental facility, and employees can also use a bus service with a stop conveniently located on the park's premises to commute to work. The international railway lines located in the hub's vicinity make for excellent logistics conditions for both domestic and international distribution.
Source: MLP Group