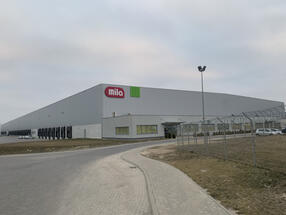 The first of the two real properties is a logistic centre situated in Bielany Wrocławskie at 6 Logistyczna Street. Its sole tenant is Amazon – the world's largest online retailer. Amazon leases the entire available space of the 123,469 square meters building. The warehouse in Wrocław that the company operates since 2014 is its first distribution centre in Poland.
The next new investment in the portfolio is a logistic centre located at 35 Kasztelańska Street in Krągola near Konin. The sole tenant at this 39,666 square meters warehouse is Eurocash group, a leading distributor of FMCG products in Poland.
"We realize the enormous potential of the logistic market in Poland, and that is why we think that purchasing these properties from Blackstone is of key importance to Mirae Asset Global Investments' European operations. As an investment manager with global presence, we put a lot of stress on selecting our local business partners, who are well versed in the domestic trends and conditions. I firmly believe that starting cooperation with Hines, a company with tremendous experience in the real estate sector, is a great decision," said Ken Kim- representative of Mirae Asset Global Investments.
"We are very happy to have advised Mirae Asset Global Investments on this transaction, Hines' first collaboration with MAGI in Poland. Amazon and Eurocash centers offer exceptionally high-quality logistics space with long-term security for the investor so we are excited by the asset management mandate that Hines Poland has been entrusted." said Przemysław Iznerowicz- Managing Director, Hines Poland.
Source: Hines