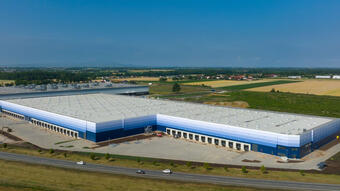 GLP has previously built and fully leased three warehouse buildings at Wrocław V Logistics Centre. GLP has also improved the local infrastructure, building a turning system at the intersection of the access road to new warehouses and Expressway S8, which connects the park with motorways A4 and A8, as well as expressways S3 and S5. Also located in the vicinity are bus stops that connect the suburbs with central Wrocław, to ensure an easy commute for employees working at companies operating in GLP buildings.
The latest building at GLP Wrocław V Logistics Centre will meet the BREEAM Excellent certificate guidelines. It will be fitted with energy-saving solutions. Lighting inside the 12-metre building will be DALI-controlled, reducing demand for artificial lighting, due to an increased number of skylights. Access roads and car parks on the premises are illuminated with additional LED lights. The rooftop also has the capacity for solar panels to be installed. In addition, there are a range of water saving solutions available, including rainwater harvesting and a toilet water reuse system.
Wrocław V Logistics Centre is also notable for its green and biologically diverse environment, featuring adjacent bike shelters and charging stations for cars and e-bikes. The mature trees growing on the premises have been preserved, with not a single tree to be cut down for the new site. All tenants at the park can individually monitor their energy, gas and water consumption using the smart metering system.
The latest warehouse at GLP Wrocław V Logistics Centre is scheduled to be completed in the first half of 2024, with Goldbeck acting as the general contractor of the building. Once fully expanded, the 50-hectare site will offer a total of nearly 240,000 sqm of logistics space.
Michał Kropiewnicki, Technical Development Manager at GLP, comments: "As we expand GLP Wrocław V Logistics Centre, we continue to elevate the standard of our buildings. As part of our continuous commitment to reduce the carbon footprint of our projects and operating costs, our latest warehouse will include a decarbonised steel roof structure, as well as thickened wall and roof thermal insulation. We are also ready to introduce additional sustainable solutions as required by future users."